Cakes Biscuits & Sweet Treats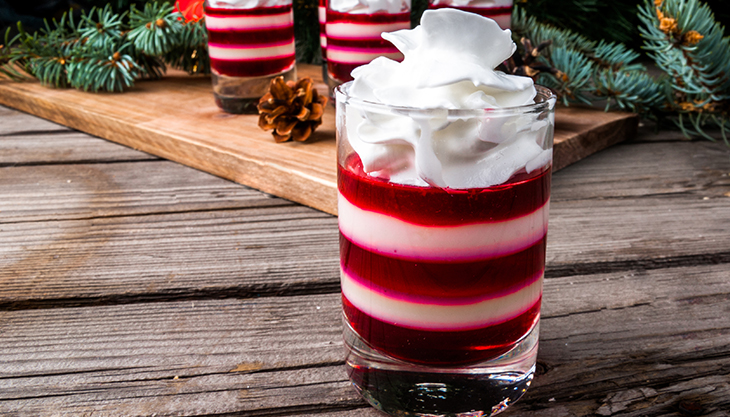 Makes 12 Portions
Not Suitable for freezing
Preparation 60 minutes
0 minutes cooking time
140 C°, 275 F°, Gas Mark 1
Ingredients
625ml Milk
250ml single cream
110g Cater Sugar
2 tsp Vanilla Extract
8 Tsp powdered gelatine
1/4 cup waterStrawberry Jelly
1 packet Strawberry Jelly
1/2 Boiling Water
1/2 pint Cold WaterTopping
Spray Cream
Method
This is basically a strawberry jelly and a milk jelly.
Milk Jelly
1. Over a low heat stir the milk, cream, sugar and vanilla until the sugar dissolves. Remove from the heat.
2.Dissolve the gelatine – put the water in a heatproof bowl and sprinkle the gelatine into the water. Sit the bowl in a saucepan of simmering water and stir until it dissolves and the liquid is clear.
3.Add the gelatine to the milk mixture and leave to cool.
Strawberry Jelly
Make using the packet instructions.
Leave to cool.
Once the jelly is cold and starting to set, spoon the jelly into glasses in layers. Put in the fridge to fully set.
When you are ready to serve use spray cream to top each glass