Cream cheese Easter biscuits
Cakes Biscuits & Sweet Treats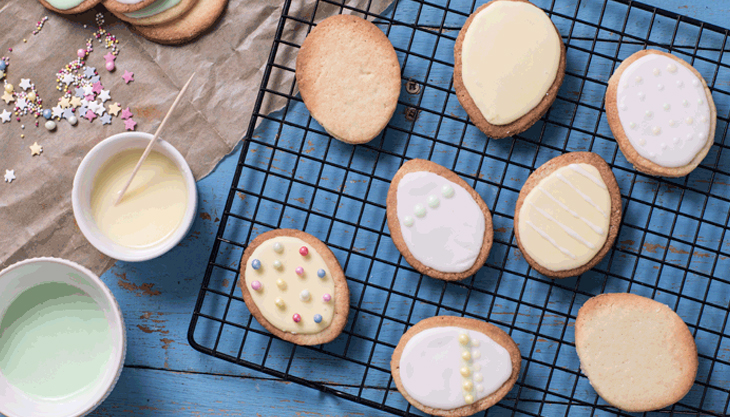 Makes 20 Portions
Suitable for freezing
Preparation 20 minutes
10 minutes cooking time
180 C°, 350 F°, Gas Mark 4
Ingredients
Biscuits
140g caster sugar
225g butter, softened
85g cream cheese, softened
pinch of salt
½ teaspoon almond extract
½ teaspoon vanilla extract
1 egg yolk
320g plain flour
Icing
120g icing sugar
1-2 tbsp boiling water
Food colouring (optional)
Method
In a large bowl, combine the sugar, butter until fully mixed together. Mix in the cream cheese, salt, almond and vanilla extracts, and egg yolk. Beat until smooth.
Stir in flour until well blended. Chill the dough for 2 hours, or overnight.
Preheat oven to 170°C. On a lightly floured surface, roll out the dough 1/3 at a time to 25mm thickness with lightly floured biscuit cutters. Place 2 to 3cm apart on ungreased baking trays. Bake for 7 to 10 minutes in the preheated oven, or until light and golden brown. Cool biscuits completely before icing.
To make the icing sift the icing sugar into a bowl. Using a wooden spoon, gradually stir in enough water until the mixture is the consistency of thick cream. Beat until white and smooth and thick enough to coat the back of the spoon. Mix in some colouring, if you like, and use immediately.
These biscuits are delicious iced or un-iced. The dough really benefits from a long chill in the fridge before baking. So would recommend making the dough the day before decorating.
TIP: To flavour the icing try replacing the water with lemon or orange juice, or add a few drops of vanilla or almond extract.