Cakes Biscuits & Sweet Treats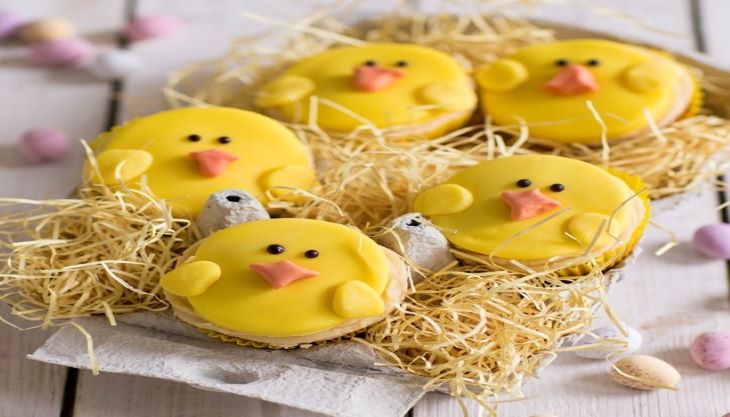 Makes 20 Portions
Preparation 40 minutes
20 minutes cooking time
Ingredients
250g Butter (unsalted)
250g Unrefined golden caster sugar
4Egg(s) (free range)
1 tsp Lemon extract
250g Self-raising white flour
3 tbsp Milk (semi-skimmed)
1 tsp Baking powder
For the buttercream
500g Unrefined golden icing sugar
160g Butter (unsalted) (softened)
3 tbsp Milk (whole)
2 tsp Vanilla extract
For the decoration
Yellow sugar paste icing
Orange sugar paste icing
Writing icing (black
Method
Preheat the oven to 180°C (160°C fan, 350°F, gas mark 4). Line 2 cupcake trays with 24 cupcake cases.

Put the butter and sugar in a bowl and beat until pale and creamy. Add the eggs, one at a time, and beat until well combined. Add in the flour, baking powder and lemon extract and fold into the mixture. The mixture should be of a dropping consistency, if not add a little milk.

Divide the mixture between the cases and bake for 20 minutes. Remove from the oven and cool on a wire rack. Tip: For a real Easter treat – find ovenproof egg cups and fill up to three quarter full with the cake batter and bake for about 20 minutes or until cooked. Leave to cool before decorating.

To make the buttercream, beat together the butter and icing sugar, adding the milk and vanilla extract to flavour.

To make the chick decorations, roll out the yellow sugar paste icing and use a small circular cutter to stamp out the chick shape. Roll two smaller pieces of yellow sugar paste icing into balls and flatten for the wings. Attach to the chick body by lightly brushing with water.

To make the beak, shape a small piece of orange sugar paste icing into a triangle shape. Secure to the centre of the yellow sugar paste icing with water.

Use black writing icing to pipe two dots to make the chicks eyes. Place the decoration on top of the buttercream and gently press down to keep in place.
Celebrate Easter in style with these adorable lemon chick cupcakes. These zesty soft lemon cupcakes are topped with a delicious vanilla buttercream and cute sugar paste decorations. They are great fun to make and decorate and we are sure the whole family will enjoy tasting them.
This recipe is courtesy of www.bakingmad.com