Penguins steal the show at Waterside in Sale this Christmas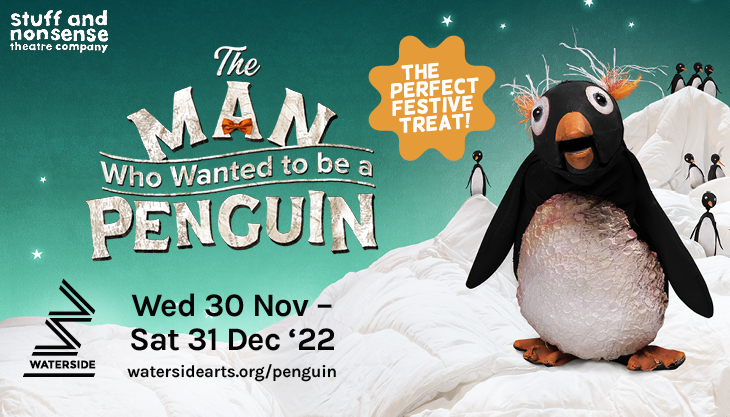 The Man Who Wanted to be a Penguin is the story of an extraordinary explorer, a curious conjurer and pioneering problem-solver. See him pottering in his shed, planning his latest mission and can even learning to speak Penguin! With a playful energy and a mix of puppetry, music and song, this show for ages 3+ is a delightful celebration of wild creativity and the joy of individuality.  
Much-loved family theatre company Stuff & Nonsense bring this wonderful festive show to Waterside from 30 November to 31 December. Group discounts and tickets for low-income families are available. 
Following their previous sell-out shows at Waterside, including The Gingerbread Man, The Elves and the Shoemaker and Goldilocks & The Three Bears, Stuff & Nonsense's brilliant new show features charming puppetry, quirky characters and an epic expedition to meet the penguins in the Antarctic! 
You can also take advantage of two wonderful digital workshops on puppet making or song writing designed by Stuff & Nonsense – available at £10 per workshop from Waterside's website. 
Find out more and book tickets here. 
The show is co-commissioned with The Albany and ARC Stockton, supported using public funding by the National Lottery through Arts Council England, with additional support from The Lyric, Bridport and The Point, Eastleigh. 
Additional family entertainment this Christmas also includes Olivier Award-winner Guy Masterson with the Dickens' classic festive fable, A Christmas Carol, suitable for ages 8 and upwards. Famed for bringing multiple characters to vivid life, Masterson will take on the roles of Scrooge, Marley, the Fezziwigs, the Cratchits and even Tiny Tim in a riveting and enchanting performance guaranteed to get audiences into the Christmas spirit! 
The festivities at Waterside would not be complete without the ComedySportz Panto. Come and enjoy one of their totally improvised Pantos for ages 7+ or a short and sweet version, complete with silliness and songs, for little ones this December. 
Our family friendly exhibition which is also well worth a visit and runs alongside the Christmas shows, celebrates the career and talents of the wonderful Altrincham-based, stopmotion animation duo, Mackinnon & Saunders.  The exhibition features many of their acclaimed projects from the past thirty years including Corpse Bride, Frankenweenie, the much-loved Fantastic Mr Fox and the soon to be released Pinocchio on Netflix. 
During your visit come and relax in our cosy Waterside coffee bar serving delicious and festive hot drinks, or browse our range of unique gifts and treats in our pop up gift shop.