The Waterworks Museum Hereford awarded the Queen's Award for Voluntary Service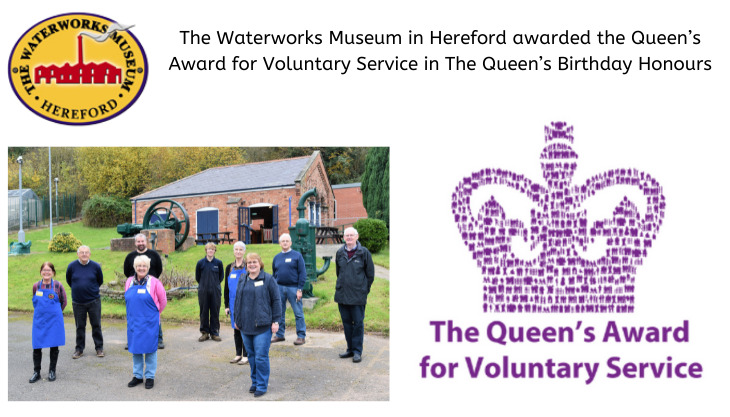 The Waterworks Museum in Hereford has been awarded the Queen's Award for Voluntary Service in The Queen's Birthday Honours.
The Waterworks Museum at Broomy Hill in Hereford has been awarded The Queen's Award for Voluntary Service (QAVS). This is the highest award a local voluntary group can receive in the UK and is equivalent to an MBE.
The Waterworks Museum was opened in 1974. The museum is one of Herefordshire's leading visitor attractions. It is wholly run by volunteers. It is, 'A working museum which makes the story of drinking water spring to life.' Visitors are able to see the widest range of working pumps and engines from across Herefordshire and beyond. It has a unique Heritage Water Park. The museum also has a permanent exhibition to World War II in Hereford.
The Lord Lieutenant of Herefordshire, Mr. Edward Harley OBE said 'The Waterworks Museum provides a wonderful visitor attraction for Hereford which gives pleasure to a wide range of people including visitors from far afield, Herefordshire residents and their children, enthusiasts and, volunteers. The museum preserves and restores important elements of our local and national heritage. I offer my heartfelt congratulations to all involved in volunteering for this superb organisation. The award is well deserved recognition for the enormous amount of energy and time that all the volunteers give to this excellent museum.'
"To receive the Queen's Award for Voluntary Service after such a very busy and challenging few months for the directors and volunteers is wonderful" said Jill Phillips, The Museum Chair of Trustees. She comments "the absolute strength of the museum is the passion and capabilities of those involved and the museum is a very special place to be a volunteer at".
The Waterworks Museum volunteers will receive the Award Crystal and certificate from Mr Edward Harley OBE, Lord-Lieutenant of Herefordshire in the early Autumn. In addition, two volunteers from the organisation will attend a garden party at Buckingham Palace in May 2023, along with other recipients of this year's Award.
The museum is one of 244 local charities, social enterprises and voluntary groups to receive the prestigious award this year. Their work, along with others from across the UK, reminds us of all the ways in which fantastic volunteers are contributing to their local communities and working to make life better for those around them.
The Queen's Award for Voluntary Service aims to recognise outstanding work by local volunteer groups to benefit their communities. It was created in 2002 to celebrate The Queen's Golden Jubilee. Recipients are announced each year on 2nd June, the anniversary of The Queen's Coronation.