HAF Worcester
Holiday activities for children.
You can make new friends and try new activities in the Holidays with the Worcestershire HAF programme!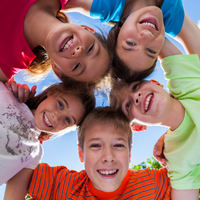 Ready, Steady, Worcestershire have partnered up with holiday clubs, schools and activity providers all over the county so they can offer fun, action packed opportunities for children during school holidays.
If you are eligible for Free School Meals or have been referred to the programme by your school, you will be credited with free sessions to book onto over the school holidays through our online booking system.
Holiday Clubs all over Worcestershire
Ages 5 – 16
Free passes for eligible families
Get your free passes to join one of our clubs for action packed school holidays!
You can claim your free holiday club passes so your child can try sports, arts & crafts, drama, history, day trips, farm visits, science and much more!
Free holiday places are funded by the DfE Holiday Activities and Food Programme (HAF) over the school holidays.  All children between the ages of 5 – 16 who get Free School Meals (FSM) can sign up to receive free holiday club passes to use at any HAF Holiday Club in Worcestershire (places subject to availability).
A healthy delicious lunch is included with all club passes.
For more information, including bookings, visit www.worcestershire.gov.uk/RSW 
 What is the HAF programme?
On 8 November 2020, the Government announced that HAF programme, which has provided  healthy food and enriching activities to disadvantaged children since 2018, will be expanded across the whole of England, to children in every local authority in England. The programme will cover the Easter, Summer and Winter holidays in 2022.