Swan Youth Theatre Worcester & Pershore
Home to thousands of children and young people since it was established in 1965, the Swan Youth Theatre is a place that many have started out at and gone on to have successful and brilliant artistic careers. With specialist Youth Theatre Practitioners, SYT provides students with unique opportunities, makes use of the Swan Theatre and Pershore Number 8's amazing facilities.
Juniors: Year 1 – 4 (5-9 years old)
Intermediates: Year 5 – 8 (9-14 years old)
Seniors: Years 9 – 13 (14-18 years old)
Sessions run through term time.
Termly or annual fees with bursary options.
Full information and booking here.
Relaxed Drama Group – Saturday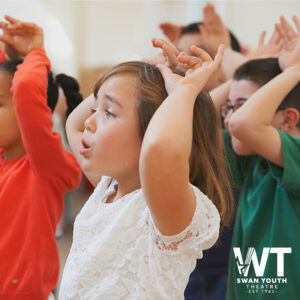 Relaxed SYT is a place for those who benefit from a more relaxed and supported environment to learn theatre and drama skills and develop their confidence. With loads of fun and games with our great Youth Theatre Practitioners, students learn with the freedom they need to feel comfortable.
KS1: 4-8 years old (Reception – year 4)
KS2: 9-11 years old (Years 5 – 7)
KS3: 12-16 years old (Years 8 – 11)
Sessions run through term time.
Termly or annual fees with bursary options.
https://worcestertheatres.co.uk/get-involved/swan-youth-theatre
Swan Theatre Holiday School
Throughout the school holidays, Worcester theatres offers a brilliant programme of theatre and drama club fun at the Swan Theatre Holiday School! With our experienced Youth Theatre Tutors, the holidays are sure to be an exciting time!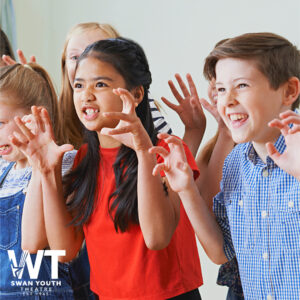 The Swan Theatre School is a great way for your child to learn, develop and gain of secondary skills through theatre and drama practices. With vocal work, writing and reading, the exercises and games we will practice will have a positive effect on socialisation and confidence. STHS is equipped to support children and young peoples' development, whether they have experience performing or are new to it!
Created and funded for families that are entitled to free school meals, there are 20 free spaces per session for children eligible. However, we do offer 5 spaces that are charged for per session for £20. To enquire about paid places, please contact Worcester Theatres' Outreach and Participation Department.
Swan Theatre Holiday Schools run throughout the week days of school holidays – 10am – 2pm
To be kept updated and added to our mailing list, please contact outreach@worcestertheatres.co.uk
You can also keep updated through our website page or through HAF's website page.
https://worcestertheatres.co.uk/get-involved/swan-theatre-school
https://www.haf-it.co.uk/activities
Culture Café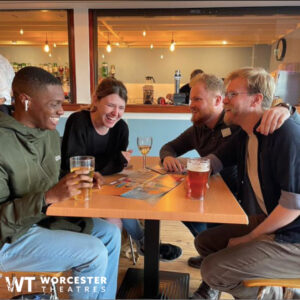 Culture Café is Worcester Theatres' free monthly community event! Come and enjoy a hot drink and some biscuits with us whilst we are accompanied by a musician, comedian, poet or other local artist!
Held in the Swan Theatre café, the venue is inviting and accessible to all arts and performance lovers and those who would like to experience live performance. With our friendly staff close by to welcome you and assist you, there are both hot and cold beverages with snacks available!
A different performer every first Thursday of the month between 1pm-3pm – come and get involved and experience the great local art that Worcester has to offer!
https://worcestertheatres.co.uk/whats-on/culture-cafe
 Artist Social
Worcester Theatres Artist Social is a monthly event connecting local Worcestershire artists with the intention to network and have discussions with those likeminded!
This free event meets every last Friday of the month and changes venues every month. Email outreach@worcestertheatres.co.uk to enquire and get added to the mailing list!
Are you an artist? Are you feeling disconnected from the Arts world? If you are unsure of your next steps, or just fancy a chat, come along to the Worcester Theatres Artist Social, we would love to see you! Share in discussions and try to focus on the good things that we can look forward to in the future!
Every last Friday of the month – 7pm
Free!
https://worcestertheatres.co.uk/whats-on/worcester-theatres-artist-social
Let's Knit & Craft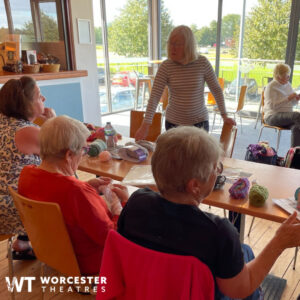 What ever art craft that you enjoy or even specialise in, bring yourself and supplies along to the Swan Theatre and meet other creators and have a natter! With a lovely hot drink and some biscuits and great company, what could you want more!
Every Friday – 10am – 1pm
Free!
https://worcestertheatres.co.uk/whats-on/lets-knit-craft
WT Workroom (change seasonally)
Music in Theatre
Led by Aaron Corbett, the current Hereford and Ledbury Poetry Slam Champ – this is bound to be a great evening!
An interactive workshop that explores the ways that you can create theatre by combining with music. To find out more, follow the link below!
Tuesday 1st November –  Swan Theatre
£10
https://worcestertheatres.co.uk/whats-on/music-in-theatre
Savvy Creatives – Crave Arts
Are you looking to take your theatre or creative craft further into a business venture? This session will provide you with knowledge in how you can create a creative company. Delivered by Crave Arts, Worcester Theatres' Associate company, this session will be led by Steve and Debbie.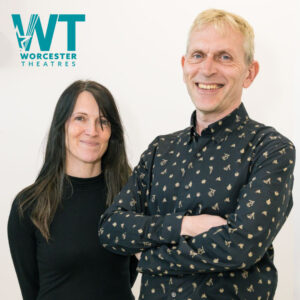 To find out more, follow the link!
Saturday 19th November – Swan Theatre
£10
https://worcestertheatres.co.uk/whats-on/savvy-creatives-by-crave-arts
All our family-friendly events can be found in the Raring2go! what's on guide here.