The Courtyard host a range of classes and workshops for young people aged 2 – 24.
Full details of all classes and workshops can be found on their website here – there are so many, and something for everyone (tip: when you open the linked page, use the filter on the left of the screen to find clubs and classes).
Early Years: Twinkling Stars
Twinkling Stars sessions are on Saturdays from 9.30am – 10.15am. This is a brand new family fun dancing session incorporating Makaton sign, musical movement, sensory play and lots of fun! Led by specialist preschool teacher, Lucy. Suitable for 2 – 4 year olds.
We deliver weekly sessions each term for budding young film makers. These film making sessions for young people are a brilliant way of learning how to use editing software on a Mac computer as well as how to use specialist filming equipment.
Whether you are a complete novice or if you already have some experience, Will will be able to teach you new skills and develop ones you already have. If you've ever wanted to learn how to make a short film then our courses are an ideal introduction. Spaces are limited and applications are dealt with on a first come first served basis.
Wednesdays:
Juniors (ages 9-13) 5.15pm
Seniors (13-17) 6.45pm
Courtyard Kids Youth Theatre
Reception – Year 2 . Sessions are term time Saturdays: 9.15am – 9.45am
Learn through play, make friends and have the chance to be involved in Courtyard Theatre productions.
Sessions run weekly in term time.
Fancy joining us? Get in touch with Education Administrator on 01432 346526 or email takepart@courtyard.org
The Courtyard delivers weekly Youth Theatre sessions both at The Courtyard itself and out in the community in Bromyard, Ross-on-Wye and Ledbury. Youth Theatre classes work towards annual and bi-annual productions which allow children and young people to develop their skills and showcase them on The Courtyard's Main House stage. By being a part of the Youth Theatre young people have the opportunity to improve their confidence, make new friends and have fun whilst learning valuable skills about communication, teamwork and discipline.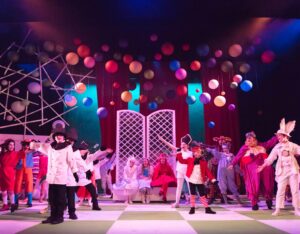 TERMLY CLASSES:
Check our website for details of our termly clubs and classes – we have something for everyone, and for all ages too!
Drop in sessions:
The Courtyard also run a variety of low cost, drop in sessions. These include the popular Playing Together, an interactive play session for older adults and pre-school children along with accompanying parents and carers. This lively creative session supports participants to communicate through play activities, including music, movement, sand, puppets and visual arts.
The Courtyard's other drop in session, Dancing Tots, is an opportunity for little ones to learn basic dance techniques and build confidence. A fun session that introduces movement to parents and toddlers and aims to aid children's development.