Cakes Biscuits & Sweet Treats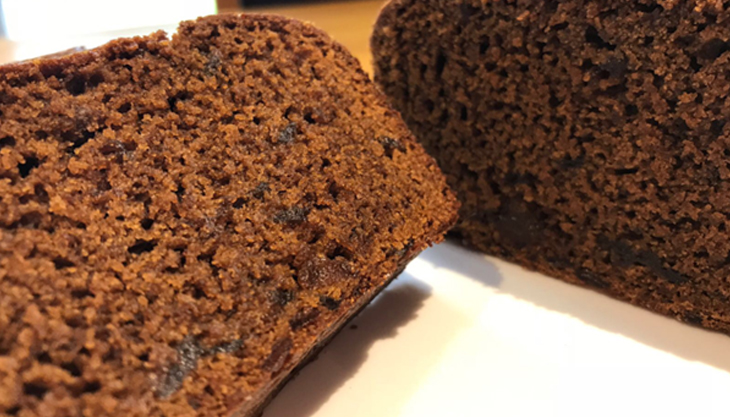 Makes 10 Portions
Not Suitable for freezing
Preparation 10 minutes
40 minutes cooking time
200 C°, 400 F°, Gas Mark 6
Ingredients
225g self-raising flour
½ teaspoon ground ginger
½ teaspoon bicarbonate of soda
85g sunflower spread (e.g. Pure ®)
85g black treacle
85g golden syrup
85g demerara sugar
170g apple sauce
Method
Preheat the oven to 180 degrees fan, 200 conventional, gas mark 6.
Mix all the wet ingredients together with the sugar in a saucepan and heat until melted together, stirring occasionally.
Whisk together the dry ingredients and pour in the liquid mixture, stir until well combined.
Pour into a greased and lined loaf tin and bake for 35/40 minutes until a cocktail stick inserted into the centre comes out clean.
Remove from the oven, and allow to stand.
Remove from the tin, cut and serve
Winter has arrived, the nights are crisp and cold and that's when there's nothing better than a bit of freshly made ginger cake to warm us through.
This Vegan version is great but will work just as well with a standard lite spread. I love using chunky apple sauce because it's a real treat to bite in and get the sweet kick alongside the ginger spice. You can use smooth apple sauce just as easily.
It will store for a good few days in an air tight box but I find it never lasts that long!
Inspired by watching the Great British Menu, Katie decided at an early age to make her career in the Food Industry, and is firmly on the road to success. At 16, Katie enrolled in Young Chef Academy at University College Birmingham. Upon completing this course, she was offered an unconditional place on an apprenticeship programme run by the Royal Academy of Culinary Arts. Katie continues to study at UCB and also works (very hard) as an apprentice at the 1 Star Michelin Restaurant Carters of Moseley. In order to fulfil her commitments at college and at 'work', at aged 16, Katie moved from her family home in Northamptonshire to Birmingham, where the 18 year old now currently lives.
We asked Katie what she loves to eat and prepare… 'it's got to be simple quality food, not complicated, just good traditional dishes'. Pie & Mash being one of her favourites. We've teamed up with Katie, who is looking to feature exciting, inspiring and fun recipes that will involve cooking with the kids, making meals on a budget and helping all you  Mums and Dads out there, who are always on the go.