Quinoa & halloumi burgers with corn salsa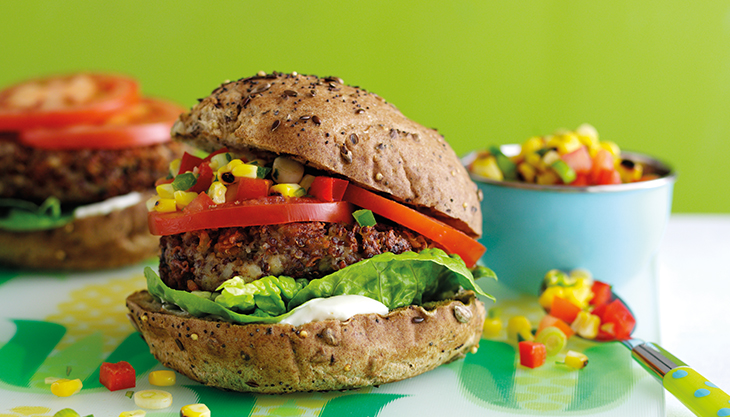 Makes 4 Portions
Suitable for freezing
Preparation 20 minutes
15-18 minutes cooking time

140

 C°, 

275

 F°, Gas Mark 

1
Ingredients
I like to use red quinoa to make these substantial burgers for its colour and nutty texture, but any variety will do. Likewise, do try other types of beans – maybe kidney, black beans, chickpeas/garbanzos or butter beans. If you want to use dried beans, factor in extra time for soaking and precooking – you'll need about 115g.
Hero Food: quinoa
Pronounced €˜keen-wa', this gluten-free grain is a complete protein, meaning it provides all the amino acids necessary for the repair and maintenance of the body's cells, tissues and muscles.
55g red quinoa
400g can borlotti beans, drained and rinsed
1 small onion, grated
2 garlic cloves, finely chopped
2 tsp dried thyme
175g halloumi, patted dry and grated
1 egg, lightly beaten
flour, for dusting
Blackened Corn Salsa
(see page 133)
sunflower oil, for frying
To serve:
4 soft seedy buns, preferably wholegrain, split in half
2 tbsp mayonnaise
4 crisp lettuce leaves
2 tomatoes, sliced
Method
Put the quinoa in a saucepan, cover with water and bring to the boil. Cover with a lid and simmer over a medium-low heat for 15-18 minutes until tender, then drain well.
Put the borlotti beans in a mixing bowl and roughly mash using a potato masher. Add the onion, garlic, thyme, halloumi and egg, then stir until combined.
Coat a plate and your hands with flour. Shape the bean mixture into 4 burgers and dust each one with flour. Place the burgers on a plate and chill for 20 minutes to firm up.
Meanwhile, to make the salsa turn to page 133. Blend half of the chargrilled corn to a coarse paste. Transfer the corn paste to a bowl and stir in the rest of the corn with the remaining ingredients, adding the chillies, if you like. Leave the salsa to one side.
Pour enough oil to generously cover the base of a large frying pan and heat over a medium heat. Add the burgers and fry for 6-8 minutes, turning once, until golden and crisp.
To assemble the burgers, lightly toast the buns. Spread the mayonnaise over one side of each bun and top with the lettuce, burgers, tomatoes and a good spoonful of the corn salsa. Top with the bun lid and serve.
Nicola Graimes
Nicola Graimes is an award winning cookery writer and former editor of Vegetarian Living magazine. She has written more than 20 books, including The Top 100 Recipes for a Healthy Lunchbox , The Big Book of Wok, The Big Book of LowCarb Recipes, Veggienomics, The New Vegetarian Kitchen (chosen as one of OFM 's Top 50 Cookbooks of the Year), and the bestselling book The Part-Time Vegetarian for Nourish.