Cakes Biscuits & Sweet Treats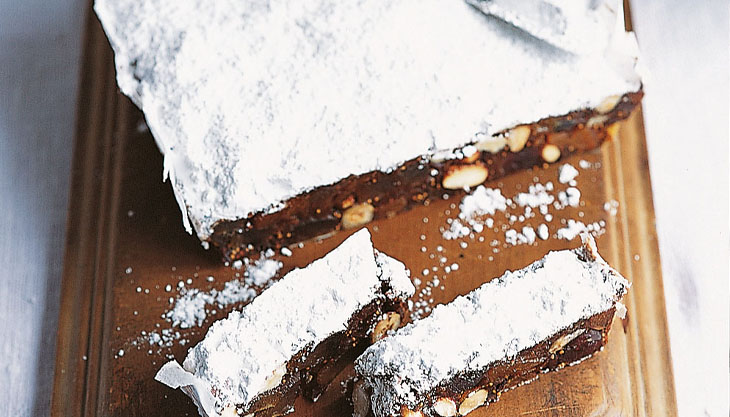 Makes 10 Portions
Suitable for freezing
Preparation 20 minutes
40 minutes cooking time
150 C°, 300 F°, Gas Mark 2
Ingredients
Rice Paper
240g figs or pitted dates
50g honey
100g soft brown sugar
½ tsp each of ground cinnamon, cardamon, cloves, nutmeg and pepper
250g candied fruit, such as cherries, citron, lemon and orange zest
50g blanched almonds
50g pine nuts
50g shelled hazelnuts toasted
3-4 tbsp plain flour, sifted
50ml Vin Santo
icing sugar for dusting
Method
Preheat the oven to 150°C/Gas 2. Line a shallow 25cm round cake tin, or a 20cm square tin, with rice paper.
Mince the figs or dates and put them in a pan with enough water just to cover.
Add the honey, brown sugar and all the spices.
Cook gently for about 10 minutes, then tip into a bowl. The mixture should be soft and sticky, but not wet.
Add the candied fruit and nuts and mix well, then add the flour and Vin Santo and mix to a sticky mass.
Spoon the mixture into the prepared tin and bake in the oven for 30-40 minutes.
Take out of the oven and leave to cool in the tin
Sprinkle generously with icing sugar and serve cut into thin wedges.
Antonio Carluccio
Antonio Carluccio-The Godfather of Italian food moved to London in 1975 to open his own restaurant and chain of Carluccio's Caffes. One half of the successful Two Greedy Italians Antonio has written over 13 bestselling books.
Antonio has now joined Raring2go! to share some of his best recipes with you