Cakes Biscuits & Sweet Treats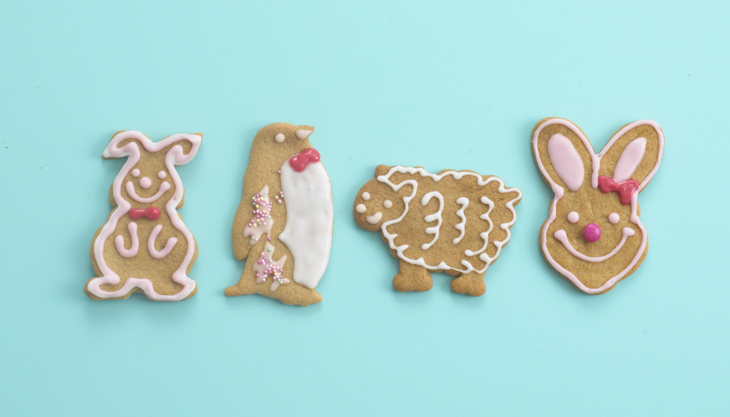 Makes 15 Portions
Suitable for freezing
Preparation 10 minutes
12 minutes cooking time
180 C°, 350 F°, Gas Mark 4
Ingredients
185g plain flour
1 ½ tsp ground ginger
½ tsp bicarbonate of soda
50 g butter (room temperature)
85g soft light brown sugar
1 large egg yolk
2 tbsp golden syrup
Assorted Decorations eg Mini Smarties, M&M's Currants or raisins
Writing Icing or white and pink icing made with Royal Icing mixed with water
Method
Pre-heat the oven to 180°C/350°F/Gas 4. Fan 160C.
Line or grease two large baking sheets with non-stick baking paper.
Sift the flour, ginger and bicarbonate of soda into a mixing bowl.
Cut the butter into chunks and add to the bowl.
Rub the butter into the flour using your fingers until the mixture looks like fine breadcrumbs.
Stir the sugar into the mixture, then add the egg yolk and golden syrup and mix everything together using a wooden spoon.
Sprinkle a clean work surface with flour and knead the dough until it is smooth. Cut the dough in half.
Sprinkle the work surface with a little more flour and roll out the dough starting at the centre of the dough and rolling evenly outwards.
Repeat with the second ball of dough.
Cut into shapes using cookie cutters Re-roll the trimmings until all the dough is used up
Place on the lined or greased baking sheets and bake for 10 to 12 minutes.
You can add currants for eyes before the cookies are baked if you like.
Allow to cool then transfer to a wire rack to cool completely.
Once cool, you can decorate.
Children will love rolling out dough and cutting cookie shapes. If you heat your spoon in hot water before you measure the syrup it will slide off the spoon easily.
Annabel Karmel MBE
Mother of three Annabel Karmel continues to reign as the UK's No.1 children's cookery author, best-selling international author, and a leading expert on devising delicious, nutritious meals for babies, children and families.
Since launching with The Complete Baby and Toddler Meal Planner 25 years ago the book which has become the 2nd best-selling non-fiction hardback of all time – Annabel has written 43 books selling over four million copies worldwide.
Coupled with a vast digital following, recipe apps, cookbook-inspired supermarket food ranges and menus in some of the world's top leisure resorts and hotels, Annabel has become a leading pillar for parents who want to give their growing family the very best start in life. Because of this she was awarded an MBE in the Queen's Birthday Honours for her outstanding work in the field of child nutrition in 2006.
Whilst remaining a regular media commentator on children's food issues, Annabel is recognised as one of the UK's leading female entrepreneurs, becoming an inspirational role model for other rising stars, business start-ups, women in business and parents returning to work.