Cakes Biscuits & Sweet Treats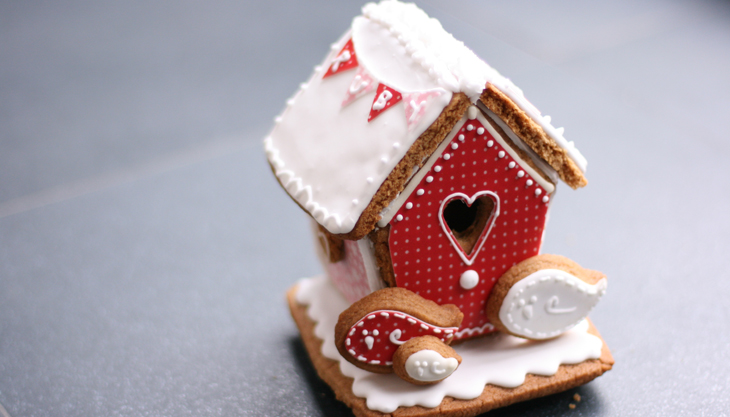 Makes 12 Portions
Suitable for freezing
Preparation 15 minutes
12 minutes cooking time

180

 C°, 

350

 F°, Gas Mark 

4
Ingredients
175g unsalted butter
100g caster sugar
50g dark muscovado sugar
4 tablespoons golden syrup
200g plain flour
150g wholemeal plain flour
1 tablespoon good quality cocoa powder
1 teaspoon ground ginger
1 teaspoon ground cinnamon
1 teaspoon bicarbonate of soda
pinch of salt

Additional items: baking sheet, baking paper, icing nozzle, cookie cutters, ribbon, palette knife
Method
First, using a bowl big enough to contain all of the ingredients, sift together both of the flours, cocoa powder, ginger, cinnamon and bicarbonate of soda. Add a good pinch of salt.
Next place the butter, sugar and golden syrup into a heavy bottomed saucepan. Place the pan over a low heat and stir occasionally until everything has melted to make a smooth mixture. Pour this liquid mixture into the dry ingredients and stir with a wooden spoon. Mix well to make a firm dough.
Tip out the dough onto a lightly floured worktop and wait until the dough is cool enough to handle before kneading. Gently knead until you have a supple dough – be sure not to over-work the dough though.
Line a baking sheet with baking paper and preheat the oven to 180degC. Now roll out the dough to a 1cm thickness, ensuring the worktop is lightly floured to prevent the dough sticking. And cut out your shapes using cookie cutters of your choice. Remember to cut out holes if you're going to be hanging your cooked biscuits. A nozzle tip makes a handy tool for cutting small holes. A palette knife is useful for transferring the cut cookies to the baking sheet. If you have time, chilling the cut shapes on the baking sheet before cooking also helps to prevent the dough from spreading when baking. Baking time takes around 12 minutes but can vary from oven to oven. When baked, remove from the oven and cool on a wire rack. The biscuits will firm up when they cool down.
Optional extra: When cool, the biscuits can be decorated with royal icing. Pre-packaged royal icing mixture can be purchased from the supermarket and can be easily prepared by following the instructions on the box. Disposable piping bags are great for little hands, making it easy for the kids to decorate their cookies.
Finally, thread some ribbon through the holes in the cookies to hang on the tree. It may be worth baking a big batch  – as these will probably not last long!
I love making cookie decorations with my children in the lead up to Christmas. I've tried different gingerbread dough variations, and this is probably one of my favourites…