Gingerbread Cinnamon Cupcakes
Cakes Biscuits & Sweet Treats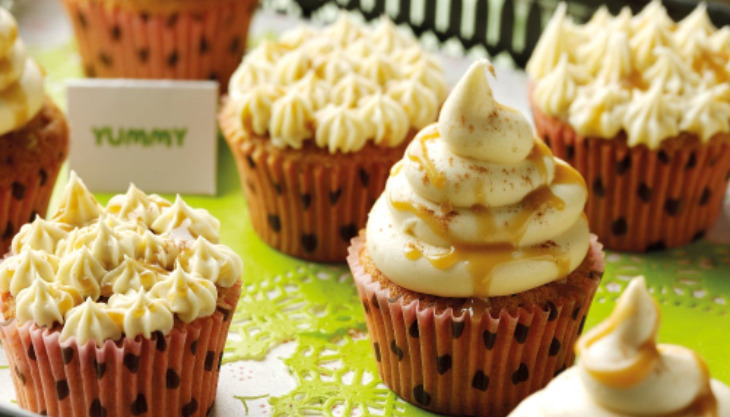 Makes 12 Portions
Preparation 30 minutes
20 minutes cooking time

160

C°, 325F°, Gas Mark 3
Ingredients
150g Unsalted butter (softened)
150g Billington's Unrefined Light Muscovado Sugar
150g Self-raising white flour
1 tsp Ground ginger
1/2 tsp Ground cinnamon
1 pinch Nutmeg (grated)
3 Free range large egg(s)
1 tbsp Milk (whole)
For the Buttercream

200g Unsalted butter (softened)
50g Billington's Unrefined Light Muscovado Sugar
3 tbsp Milk (whole)
200g Silver Spoon Icing Sugar
1 pinch Ground cinnamon
Method
Preheat the oven to 180˚C (fan 160˚C, gas mark 4). Place 12 paper cupcake cases into a muffin tin.

Cream together the butter and sugar. Sift the flour together with the spices. Gradually mix the eggs into the creamed butter and sugar, alternating with the flour. Finally, stir through the milk.

How to cream butter & sugar

Dollop the mixture in the cupcake cases and bake for 15–20 minutes until golden. Remove from the oven and leave to cool.

How to produce even cupcakes

For the buttercream melt 50g of the butter in a pan with the muscovado sugar. Add 2 tablespoons of the milk and stir to form a thick toffee sauce.

Beat the remaining butter until smooth. Then sift in the icing sugar and add the toffee sauce (save 2-3 tablespoons for later) stirring thoroughly.

Finally, pipe the buttercream on to the cupcakes, drizzle with the remaining toffee sauce and sprinkle with ground cinnamon.
About the bake
Whilst these cupcakes use Christmas flavours, we think they are lovely all year round. They go very nicely with cup of coffee too.If you enjoyed making this recipe, we think you'll love our 
cinnamon rolls
.
This recipe is courtesy of www.bakingmad.com