Cajun Quorn with Coriander Rice and Mango Salsa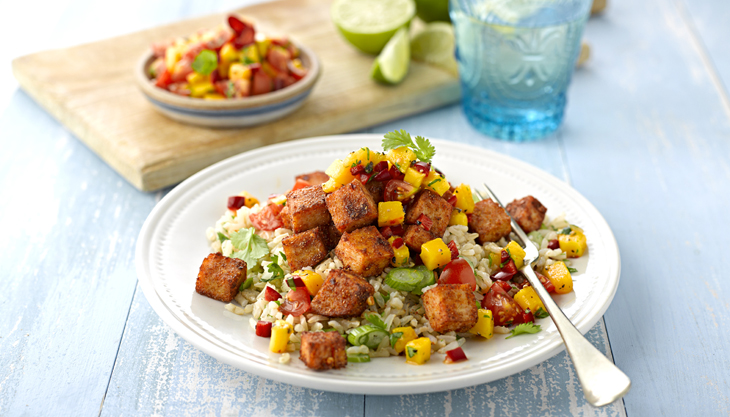 Makes 2 Portions
Suitable for freezing
Preparation 15 minutes
20 minutes cooking time
140 C°, 275 F°, Gas Mark 1
Ingredients
For the Cajun Quorn:
350g Quorn chicken style pieces
1/2 tbsp smoked paprika
1 tbsp ground cumin
1/2 tbsp ground coriander
1 tsp crushed dried chilli
1 garlic clove, crushed
1 tbsp olive oil
For the mango salsa:
1 medium ripe mango, peeled and cut into small chunks
5 medium cherry tomatoes, halved
5g coriander, finely chopped
1 small red chilli, finely chopped
1 tbsp Lime juice
Pinch of salt
Pinch of ground black pepper
For the coriander rice:
100g brown rice
1 tsp olive oil
1 large spring onions, finely sliced
10g coriander, finely chopped
Method
Preheat the oven to 180°C.
Bring a medium-sized saucepan of water to the boil and add the brown rice. Lower the heat, cover, and cook for about 20 minutes until the rice is tender. Drain and set aside.
In a plastic freezer bag add the Quorn pieces, paprika, ground cumin, ground coriander, dried chilli, garlic and olive oil. Shake the bag until the Quorn is completely coated in the spice mixture.
Transfer the spiced, coated Quorn pieces to a large, non-stick baking tray and bake in the preheated oven for 10 minutes until lightly browned. Remove from the oven and set aside.
Make the salsa by combining all of the ingredients in a medium-sized bowl.
Combine the cooked rice with the olive oil, spring onions and coriander.
Serve the Quorn with the rice and salsa.
Quorn provides a good low fat source of protein as well as being a great source of zinc, which helps to maintain a strong immune system.