'Happy to Chat' bench at Kingfisher Centre in Redditch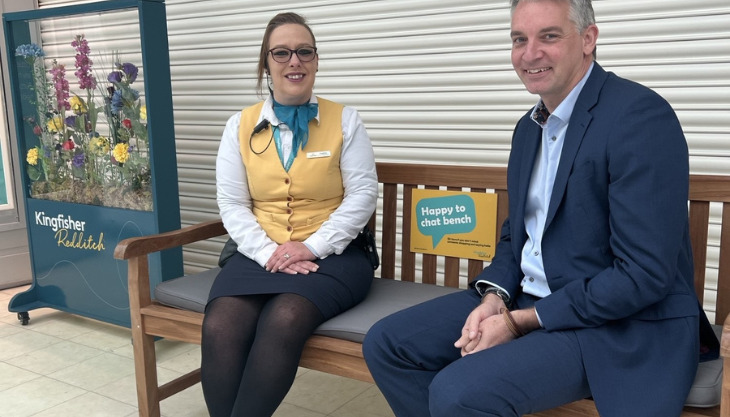 Kingfisher Centre Redditch installs 'Happy to Chat' bench to combat loneliness
Kingfisher Centre Redditch proudly announces the installation of its first-ever 'Happy to Chat' bench, located along Walford Walk, in a proactive effort to combat loneliness and isolation.
The bench will be the first in Redditch and will promote community cohesion within the Centre.
Kingfisher's installation will be available for anyone to use and aims to create a safe space for shoppers to sit and chat to others.
Loneliness and isolation have become pressing issues in today's fast-paced society, with over one million people stating they often or always feel lonely, according to Age UK. Kingfisher Centre Redditch is taking meaningful steps to address these concerns head-on, investing in the wellbeing of Redditch's local community.
The 'Happy to Chat' bench, a thoughtful initiative, has been designed to further enhance Kingfisher's welcoming environment and will allow for shoppers and visitors to easily interact with one another.
Adrian Field, General Manager at Kingfisher, commented: "We are always looking for new ways to encourage community interaction and how we can create a hospitable and safe space for our shoppers.
"Some people may go days or even weeks without the simplest human interaction, so by installing the bench it allows for that social barrier to be broken and for our visitors to connect and talk with each other."
For more information about Kingfisher Centre Redditch, please visit www.kingfishershopping.co.uk.