Half term fun at Tyne and Wear Museums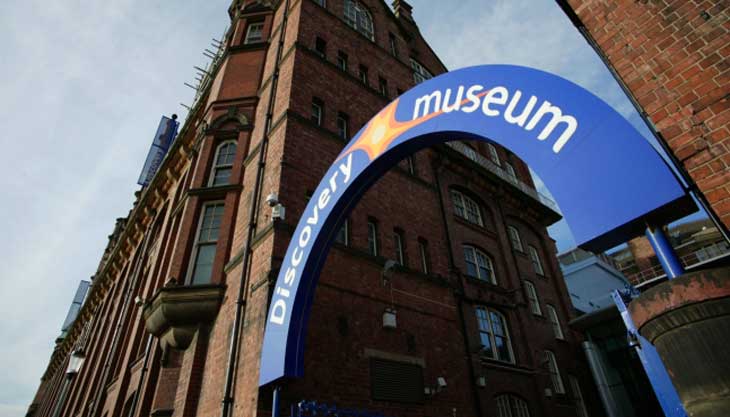 Ways to Play – October half-term events at Tyne & Wear Archives & Museums 
This October half-term, families are invited to enjoy a great value day out across museums and galleries on Tyneside, including lots of Halloween inspired activities. All of Tyne & Wear Archives & Museums' venues are near a Metro Station, so families can take advantage of Metro's free travel for children under 11, with a fare paying adult.  
The Ways to Play campaign is inspired by the range of ways a child can play, which encourages children to be active, creative and imaginative. 
Museum admission is free for under 16s to all TWAM's attractions including the Great North Museum: Hancock, Discovery Museum, Segedunum Roman Fort and South Shields Museum. Admission charges and advance booking may apply to some events. 
Discovery Museum, Blandford Square, Newcastle Upon Tyne, NE1 4JA
Monday 30 October – Various sessions between 10,15am and 2.15pm. Join us in the ghoultastic Great Hall for some creepy crafts this October half term. Craft pack will include: wooden Halloween lantern, flapping owl, dangling spider and a dash of 'witch craft'. £4.50 per child (plus booking fee). Advance booking recommended. 
Tuesday 31 October 10.30-11.30am. Bring your babies for a boogie at our toddler disco, brought to the museum by Hartbeeps, award-winning storytellers and creators of multi-sensory play for babies and young children.  This fun upbeat session will take place in the spacious Great Hall on the 4th floor with Hartbeep puppets, bubbles and lights all around 
£5 per toddler (plus booking fee). Accompanying adults and babies are free. Booking essential. 
Tuesday 31 October 6-8pm. Don your creepy costumes and draw out your inner diva to dance the day away at Discovery Museum's Spooky Silent Disco for families. You'll have three music channels to choose from, including a channel with some spooky tunes. Families have two hours to dance, leap and bust moves in a beautiful Art Deco setting with oodles of space for everyone.  £3 per child (plus booking fee). Booking essential. 
Great North Museum: Hancock, Barras Bridge, Newcastle upon Tyne, NE2 4PT
Free admission, donations welcome 
Spooktacular October half term
Saturday 21 October – Sunday 5 November During usual opening hours. Dive into an immersive, eerie adventure and explore museum treasures, local legends, and mythical creatures. From creative crafts to spine-thrilling trails, we've got something for everyone at The Great North Museum: Hancock, this half term.
Hatton Gallery, King's Road, Newcastle University, NE1 7RU 
Free admission, donations welcome 
Monday 30 October 10.30am – 12.30pm Come along and make cards, masks and decorations for Halloween. 
Wednesday 1 November 10.30am – 12.30pm Join us for a collage and drawing workshop for young people (11-18 year olds) based on Matt Rugg's artwork in the exhibition currently showing at the Hatton Gallery until 13 January 2024. 
Thursday 2 November 10.30am – 12.30pm Come and make a fun mobile based on the autumn season. 
Segedunum Roman Fort & Museum, Buddle Street, Wallsend, NE28 6HR 
Children under 16 years and NE28 residents free, adult admission fee applies 
Marvellous Monday: Frightening Face Pots Monday 30 October 11am – 3pm The Romans used to like to decorate some of their pottery with faces. Have a go at creating your own Halloween inspired face pot or mask. How frightening can you make yours?! 
Shipley Art Gallery, Prince Consort Road, Gateshead, NE8 4JB 
Tuesday 31 October – Hallowe'en crafts 
Thursday 2 November – Autumn crafts Various sessions between 10.15am and 1.30pm.Autumn days are the perfect time to get cosy and enjoy some crafting together. 
Tuesday 31 October – make a haunted house picture, with doors and windows that really open, then draw some spooky characters or friendly monsters hiding inside.  We'll also be making a pumpkin mask using paper and card to complete your Hallowe'en costume. 
Thursday 1 November – weave a cosy autumnal decoration / necklace, using wool and lolly stick and make an autumn garland using corrugated cardboard leaves. 
£3 per participant (plus booking fee). Non participating adults / children / babies go free but require a ticket.  Advance booking recommended. 
South Shields Museum & Art Gallery, Ocean Road, South Shields, NE33 2JA 
Free admission, donations welcome 
Tuesday 31 October
11am – 3pm 
This Halloween, drop into our learning room to create your very own drinking straw decorated with creepy crawlies, coffin candy dish or pumpkin trick or treat basket.
Stephenson Steam Railway, Middle Engine Lane, North Shields, Tyne & Wear, NE29 8DX 
Sunday 29 October Train times: 11:30am, 12.30pm, 2pm and 3pm Ghouls, Ghosts, Geists and Goblins! Come take a trip aboard our Halloween Ghost Train and feel your hair stand on end with spooky stories and tales of terror from Newcastle's weirdest wordsmiths, the monstrous Mosstroopers! 
£8 adult, £5 concessions (60+ years & students), £5 child (5-16 years), FREE Child aged 4 and under. Advance booking recommended. 
Sunday 29 October 11am – 3pm Let your imagine run wild and be inspired by the spookiness of the season to create your own Halloween model!  How scary will you make yours?! 
 Free activity, donations welcome