Demon Dentist comes to Birmingham Theatre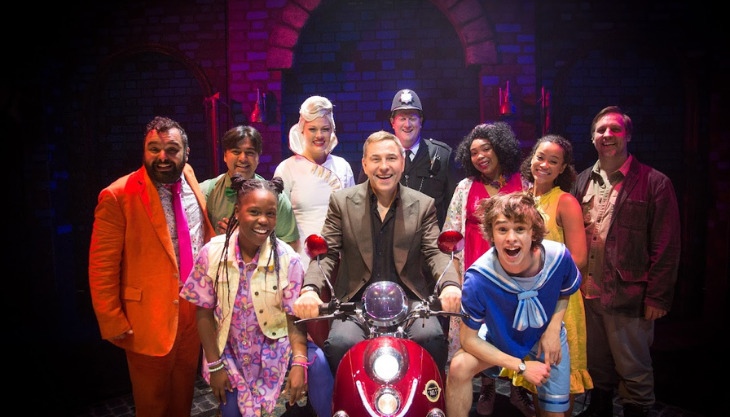 Demon Dentist is coming to The Alexandra Theatre, Birmingham.
DAVID WALLIAMS GETS HIS TEETH INTO THE DEMON DENTIST!
By Diane Parkes
Click here to book tickets for Demon Dentist at Alexandra Theatre, Birmingham
David Walliams is discussing dentists – the good, the bad and the demonic!
His own childhood memories inspired David's children's novel Demon Dentist and clearly struck a nerve with readers who made the book a best-seller. Now the tale is on tour to theatres around the UK in a thrilling and hilarious new adaptation by Birmingham Stage Company.
Demon Dentist sees 12-year-old Alfie and his friend Gabz pitted against wicked dentist Miss Root. After Miss Root arrives in their small town, not only do children's teeth drop out, but the Tooth Fairy is leaving spiders and toenails rather than shiny coins under their pillows.
"When I was a child I used to go to a nice old dentist who always told me I had lovely teeth," David recalls. "Then he retired and we moved to a new dentist who suddenly started giving me fillings. So I began to think that she must be evil, but the truth was I had probably just eaten too many sweets. Thinking back to my childhood experiences, it proved to be a good starting point to a story. It's because you only go to the dentist every six months, you never really get used to it.
"I did believe in the Tooth Fairy, but then I didn't believe in the Tooth Fairy. I was a child a long time ago and my parents would leave 10p under my pillow which I would immediately spend on sweets, so more teeth would fall out. I still pretended to believe in the Tooth Fairy so I would still get money."
But he adds: "I loved missing school to go to the dentist and being given a lolly after. Do dentists still give out lollies to children? It seems a bit irresponsible now!
"And I love going to the dentist now, or at least leaving the dentist, because you come out with the cleanest sparkliest whitest teeth. As I have to sit on a judging panel for Britain's Got Talent with Simon Cowell, I am grateful to have teeth that look presentable.
"And I brush my teeth after every meal, I'm aware that when I meet someone in the street they'd say 'I met David Walliams but he had a bit of spinach in his teeth'."
Like his writing hero Roald Dahl, David is an expert at plumbing quirky situations and relationships to create a darker side to characters and stories. And those stories have proved to be hugely successful with titles including Gangsta Granny and Grandpa's Great Escape ensuring his books sales now top fifty million.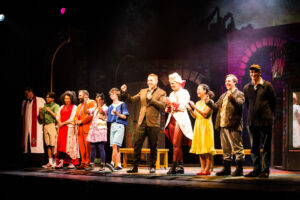 "I think children like scary stories much more than grown-ups imagine," he says. "It is a thrill being scared, as long as there are safe parameters. We have all seen parents play with their children pretending to be monsters. Children yelp half in fear and half in pleasure.
"I think with a book like Demon Dentist, it should be scary but in a safe way. When I ask kids if they found the book scary, they all say no.
"I want my books to be read for pleasure. Children aren't really readers until they choose themselves to read a book over anything else. So I write what I hope are the most thrilling stories I can. I like to have a serious point, although I try to sugar coat that with humour so it isn't too preachy."
David first became a household name through starring in the television comedy show Little Britain and has gone on to build a hugely successful career as an author of more than 30 books, an actor appearing in both Harold Pinter and William Shakespeare plays and as a television presenter and judge.
He was awarded the OBE in 2017 for services to the arts and to charity having swum the English Channel, the length of the River Thames and the Strait of Gibraltar and cycled from Land's End to John O'Groats all to raise money for Sport Relief.
David enjoys writing his books as much as the millions of children, and adults, worldwide enjoy reading them.
"I love being alone with my imagination," he says. "It is a wonderful thing dreaming up stories, trying to think of the funniest, most exciting, most surprising stories you possibly can. The only limit is my own imagination. If I can dream it, I can write it down, and then someone else can dream it too.
"The main challenge of writing for children is trying to grapple with complex issues in the simplest way possible. For example, Grandpa's Great Escape is about dementia but I never use that word in the book. I don't think it is a term most children would know so I have to explain things in a way they would understand.
"And books have remained popular because a book gives you something nothing else can. You have to paint the pictures in your own mind, that is why reading requires more work than watching a movie or playing a computer game. It is as if the author and the reader are flying through a dream together."
Many of David's books have been given a new lease of life on television and on stage. Demon Dentist is the fourth collaboration with Birmingham Stage Company whose adaptations of Gangsta Granny, Awful Auntie and Billionaire Boy have toured the UK, winning awards and playing to sell-out audiences.
David loves to see his tales come to life on stage. "You feel like a magician when a story you created is happening right in front of your eyes. Hearing the laughter is magic too. When I write a joke for a book I never get to hear a child laugh at it. In a theatre I can. It is such a great feeling."
But there are challenges to staging a tale like Demon Dentist.
"The story is always the most important thing. You can have a hundred actors on stage singing and dancing, but if you don't care about the story the audience zones out. So you need to tell the story in the most exciting way possible.
"There are some really spectacular moments in the Demon Dentist, so I'm really excited to see how the Birmingham Stage Company team pull those moments off in the theatre. I am really looking forward to seeing when Miss Root comes into the school, I used to love reading that scene out loud at book events and I can't wait to see how the actress performs it.
"With Demon Dentist, the story is on a huge scale, so the challenge will be fitting it all onto a stage – there's even a train in a coal mine! But then that is the magic of theatre, transporting the audience to all sorts of places and making them believe they are there. Why do we cry when we see a sad show? We know it isn't real, but we get wrapped up in it. It is extraordinary when you think about it."
Watching a show on stage is also a very different experience from reading the novel, he says.
"Experiencing a story all in one go can be satisfying, rather than reading a chapter a night. Plus it is always fantastic being in an audience and experiencing the laughs and chills with strangers. You feel part of something special."
A huge fan of theatre, David hopes the Birmingham Stage Company adaptations of his book are encouraging people of all ages back into venues.
"Birmingham Stage Company are hugely experienced at putting together theatre shows that are aimed at kids but also appeal to the whole family. With previous adaptations of my books, I have been delighted how Birmingham Stage Company bring out all the drama, humour and emotions in the stories.
"I hope that after having had a great time seeing Demon Dentist, it gives the audience a desire to go back to the theatre and see more. We have an incredible theatrical tradition in this country, one we should all be super proud of.
"We have to impress on people that an amazing afternoon or evening in the theatre can give you something no film or TV show or video game can. You are a huge part of the show, right in the middle of the action. You feel like you are floating when you leave the theatre after an amazing show. I hope theatre will last forever. It is like nothing else.
"And I hope audiences come back and back to see the show again as they have with the Gangsta Granny and Billionaire Boy shows. It is incredible to think some of these shows have been touring for years!"