2 for 1 at Shakespeare's Schoolroom and Guildhall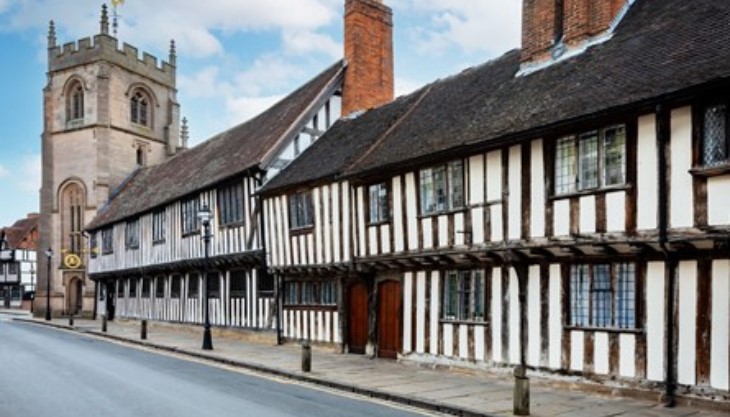 Shakespeare's Schoolroom & Guildhall in Stratford-upon-Avon is one of hundreds of venues across the country that will be saying thank you to players of the National Lottery by taking part in Lottery Open Week (18-26 March). To take advantage of this amazing Shakespeare's Schoolroom and Guildhall ticket offer, take a valid National Lottery ticket or scratchcard along with you on 18, 19, 25 and 26 March and you can enjoy 2 for 1 entrance. Be inspired by the unique story of this medieval building that hundreds of years ago was the place where William Shakespeare was inspired to become the world's greatest playwright.
Each week £30 million is raised for good causes by players and it was thanks to the support of the National Lottery that much of the restoration and conservation work to turn Shakespeare's Schoolroom & Guildhall into a visitor attraction took place in 2016. Now visitors can explore the room where in the 1570s William Shakespeare wrote his first works and the setting where he would have seen theatrical performances for the first time when touring companies visited.
Lindsey Armstrong, General Manager at Shakespeare's Schoolroom & Guildhall says, "We're delighted to be taking part in National Lottery Open Week. We've been fortunate to receive National Lottery funding, which has enabled us to become the visitor attraction that we are today. It's exciting to see everyone from local school children to visitors travelling from overseas being captivated by this magical space as they imagine how a young William Shakespeare took his first steps into becoming one of the greatest writers in the English language. This is our way of saying thank you to everyone who has bought a National Lottery ticket, helped us on our journey and made a vital contribution to supporting good causes".
Darren Henley OBE, Chief Executive of Arts Council England and Chair of the National Lottery Forum, says, "The National Lottery Open Week offers players a fantastic opportunity to enjoy a low-cost day out at venues across the UK – from castles to nature reserves, museums to sports venues. It's our way of saying thank you to National Lottery players who raise an incredible £30million each week for Good Causes. That funding makes a huge difference to venues and projects across the arts, sports, community and heritage sectors, funding many iconic venues, historical landmarks and other amazing days out across the UK."
Shakespeare's Schoolroom & Guildhall is open daily (11am to 5pm).
Click here to find out all the details and how to take advantage of this Shakespeare's Schoolroom ticket offer and book a visit during the National Lottery Open Week
As well as being a Family Friendly attraction Shakespeare's Schoolroom & Guildhall is dog friendly meaning that well-behaved four legged friends can accompany their owners.
Click here for further information on Shakespeare's Schoolroom & Guildhall