The Courtyard's Children's Mental Health Project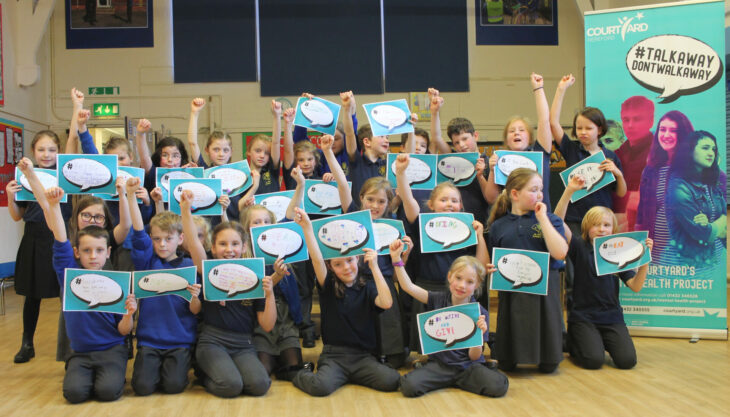 The Courtyard's children's mental health project goes digital
#TalkAwayDontWalkAway is The Courtyard's award-winning Mental Health project for schools and youth groups. It aims to open up the discussion around mental health with young people, and to support them with ways in which they can help themselves and one another.
The project includes:
A two hour in person workshop delivered at the school
Activity booklets for each student
Access to five digital arts workshops for one term
An invitation to perform on the Courtyard's Main House stage as part of the #TalkAwayDontWalkAway Showcase in May 2023. (Coach travel to and from the Courtyard will also be covered)
Badge for each student
For more information about the project, or to book for your school or group contact takepart@courtyard.org.uk or call 01432 346526.
TalkAwayDontWalkAway
The Courtyard Education team relaunched their award winning #TalkAwayDontWalkAway mental health project for children in September.
The project, which aims to open up the discussion around mental health with young people, was awarded a Health and Social Care, Mental Health Award in September 2019.
#TalkAwayDontWalkAway began as a package that included two-hour workshops with trained practitioners, mental health activity booklets and an invitation to be a part of a performance to celebrate Mental Health Awareness Week.
With thanks to funding from National Lottery Awards for All and Hereford Diocese, The Courtyard are now offering a digital package, which will be available to all schools and groups who have booked the in-person workshops.
The package
The digital package includes five filmed workshops, each covering an aspect of mental wellbeing alongside a different discipline including yoga, drama, street dance, an escape room and arts & crafts. Alongside these workshops, schools will also have access to downloadable resources, copies of The Courtyard's mental health activity booklets and will be invited to take part in their annual Mental Health Week sharing evening performance.
Herefordshire Mind have been instrumental in the development of the #TalkAwayDontWalkAway project and David Harding (Herefordshire Mind Business Development Manager) features in the films to share tips on how to look after mental health and wellbeing.
"Herefordshire Mind are delighted to be part of #TalkAwayDontWalkAway." Said David Harding, "Now, more than ever, it's so important that young people are able to express themselves and talk about their feelings and emotions. One of the fantastic benefits of this initiative is that it's accessible and lots of fun whilst also providing lots of great tips on keeping well"
Booking for the #TalkAwayDontWalkAway Mental Health workshops is open now.
For more information about The Courtyard's children's mental health project or to book workshops, visit courtyard.org.uk/mental-health-project here or contact takepart@courtyard.org.uk.
#TalkAwayDontWalkAway is supported by National Lottery Awards For All, Hereford Diocese, Hereford Community Foundation and Herefordshire Mind.