Walks, woods and parks across Herefordshire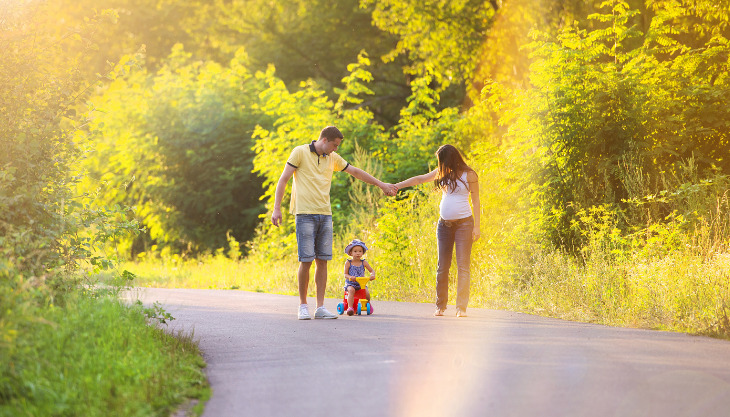 Locals woods and parks to explore
On a nice sunny day, nothing beats a walk in the park or a trip to the woods.  On rainy days, just don the wellies and waterproofs – kids love puddles, and its always good to get out in the fresh air!
There are things you may need to consider before you set off, like is the walk pushchair friendly or wheelchair accessible? Can we take the dog, and even our bikes? Where is the best place to park? Do we have to pay to park, or to enter? And are there toilets? (We realise 'wheelchair accessible' toilets don't suit everyone, so have included nearest Changing Places Facilities info too – their map is fabulous).
Here are some of our favourite walks, parks and woods – along with the answers to those all-important questions!
Bishops Meadows & King George V Playing Fields.
Postcode: HR2 7RQ.  Free entry.
If you want a good walk that's close to the city, the Bishops Meadows in the centre of Hereford is ideal. The meadows are made up of large, grassy fields, with a well-equipped, enclosed dog-free children's play area. There are seasonal tennis courts, bike hire catering for all abilities, with a wheelchair bike, twin bike, hand bike, tandem bike and tag-along bike – details here,  and a putting green (open 10am – dusk, Easter – September).  There's even a rounders pitch marked out on the meadow – so if there are a few of you, pack your bat and ball.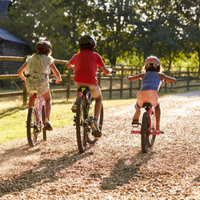 Pathways and a cycle path run alongside the River Wye, with some really lovely views.  There is a small section of pebble beach just before the Victoria Bridge foot bridge, ideal if the children (or the dog) want to paddle!  To add to the excitement, download the Love Exploring app, which will give you details of historical sites, art pieces and you can even find dinosaurs!  You can check out our review here.
Dogs are allowed. With flat pathways throughout this is pushchair & buggy friendly, and good for wheelchair access. The bike hire has adapted bikes to suit most needs.
Facilities: The Leisure Pool backing on to the Bishops Meadows has a café, and sells ice creams, drinks and snacks (toilets are also available there).  There are also public toilets in the St Martins Street car park.  Nearest Changing Places Facility: Hereford Leisure Pool HR2 7RQ  and also at The Old Market HR4 9HR. THREE further Changing Places facilities are coming to Hereford soon!
Car Parking: Pay and Display. St Martin's Car Park HR2 7RQ.  Handy tip: it's cheaper to drive through this car park and into the overflow car park.  It is a slightly longer walk but may save you a few pounds!
Other Hereford car parks can be found here.
Castle Green 
Postcode: HR1 2NW. Free entry.
A lovely enclosed green which you could easily be unaware of – used by locals as a place to play, relax and stroll, in the very centre of Hereford. Just a few minutes walk from The Cathedral, the Castle Green gives pedestrians and cyclists access to The Bishops Meadows, and the duck pond (Castle Pool).  If you want to feed the ducks – please don't give them bread. Rice (cooked or not), defrosted frozen peas, sweetcorn, oats, seeds and even lettuce are all healthy for ducks!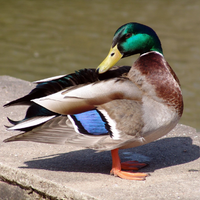 Dogs are allowed. With flat pathways throughout this is pushchair & buggy friendly.  Good for wheelchair access with pathways around the green, but a ramp down to the Victoria Bridge leading on to the Bishops Meadow.  This ramp may be tough to self propel, and a work out for an assistant, as its a bit long and steep – but it's not impossible.
Facilities: There are public toilets in the park. Nearest Changing Places Facility: Hereford Leisure Pool HR2 7RQ  and also at The Old Market HR4 9H. Easy walk through to Hereford Cathedral and the city, with lots of shops and cafés.
Car Parking: Several nearby Pay and Display car parks, the closest small ones are along East Street HR1 2LU, and a bigger one is located in Gaol Street HR1 2HU. Other car parks in Hereford can be found here.
Belmont Haywood Country Park 
Postcode: HR2 7TP. Free entry.
A nice small green park with pathways and a boardwalk at the lower Belmont pool end, providing a circular walk. There are a few picnic benches and a basketball pitch.  Dogs are allowed. The pathways are pushchair and wheelchair friendly.
Facilities: Nearest shops, café and toilets are available at the nearby Tesco store HR2 7XS.  Nearest Changing Places Facility is at The Old Market, Hereford HR4 9HR
Car Parking: There is a small free car park for visitors HR2 7TP

Aylestone Park
Postcode: HR1 1JJ. Free entry.
A remarkable park not far from the city centre, with lovely walkways and paths suitable for pushchairs and wheelchairs. There are benches and picnic tables, lovely views, and a great children's play area with pirate ship climbing frame.  The park covers 47 acres with three distinct areas known as the "conservation" area (the upper area), the "recreation" area with orchard on the hillsides, and the mostly flat "sports" area.
Dogs are allowed.
Facilities: Perfect for a picnic.  No toilet facilities, but close to the city centre.  Nearest Changing Places Facility at The Old Market, Hereford HR4 9HR
Car Parking: Free parking spaces for Aylestone park users only!
Queenswood 
Postcode: HR6 0PY. Free entry.
Open from dawn to dusk, this is a really lovely (and popular)woodland with marked out trails and an enclosed arboretum.  Little ones will love the Gruffalo Trail, and the pathways are fine for buggies and pushchairs (though put in wellies if its wet, your little one will no doubt want to run around the trail!).  There are 47 acres to explore in total, with various trails to follow, making it as short or as long as you like. There's a lovely enclosed wooden children's play area by the visitor centre, a café with indoor and outdoor seating (check the website for opening details), and several picnic benches.
Dogs are welcome, and there are water bowls for your 4-legged friend behind the Visitor centre. Queenswood is pushchair / buggy friendly, with compact pathways which make this suitable for wheelchair users too, even when its wet.
Facilities:  There is a Visitors Centre with small gift shop, a café serving snacks, drinks and ice creams, an enclosed children's play area, picnic benches, toilets and a wheelchair-accessible toilet.  Some facilities were closed during and after lock-down, so do check first. There are no Disabled Changing Places Facilities – the nearest is at The Old Market, Hereford HR4 9HR
Car Parking: there is a pay and display car park. Tip: Keep your ticket as some people have reported inappropriate fines when using this car park.

Bodenham Lake
Postcode: HR1 3JT.  Free entry.
Quieter than nearby Queenswood, there are some lovely pathways along the lake (this is not a circular route though). This offers the perfect spot for walks through the orchard, and bird watching along the lakeside and riverside.
Dogs are allowed but must be under control at all times.  There are often sheep grazing, so dogs must be kept on short leads near livestock.
This is generally suitable for pushchairs, buggies and wheelchairs unless it is really wet! There are 2 easy access paths from the car parks.  Other pathways may be muddy and a bit more tricky if it's been wet.
Facilities: There are basic toilets. Nearest Accessible ones are at Queenswood, and Changing Places facility in Hereford. There are also some benches throughout, and bird watches.  We recommend bringing a picnic and your own drinks, or call at nearby Queenswood visitor centre and café.
Car Parking:  Yes, free but very limited spaces. Open 8am – 7pm.  Locked at night.
Credenhill Park Wood
Postcode: Near HR4 7DH. Free entry.
A Woodland Trust wood covering 224 acres. The site of an Iron Age hillfort,  the park is brimming with plants and wildlife, and is a joy to explore.  With the main entrance in the car park, there is a pathway suitable for pushchairs and wheelchairs (although some of the slopes may be difficult for wheelchair users). There are some great views over the Wye Valley. Dogs are allowed.
Facilities: None – take a picnic and refreshments. Nearest toilets are at The Bell Inn pub, but are only for the use of its customers.
Parking is free but very limited.
Haugh Woods
Postcode: HR1 4QX. Free entry.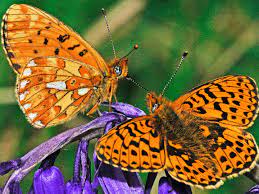 A Forestry England woodland covering 350 hectares. Nationally recognised for its butterflies and moths this is a designated Site of Scientific Interest, with some very rare species to spot. From the main carpark, there are two waymarked butterfly trails, which include a number of information boards about the butterflies and the conservation work in the wood. Both walks will take you through the beautiful mixed woodland and include some lovely views across the Herefordshire hills. With an Easy Access trail, pathways are mainly hard forest tracks with gentle slopes, so is suitable for pushchairs and wheelchairs.
Dogs are welcome. Cycling is not permitted off the main forest roads.
Facilities: None! Bring a picnic and refreshments.
Parking: Free.  No designated blue badge parking spaces.
The Weir Garden – National Trust property
Postcode: HR47QF. Entry fee applies. (Free entry & parking for National Trust members)
A really beautiful riverside garden, and if access is not an issue for you, it is well worth a visit. Take a picnic and your own refreshments! The pathways do have some protruding roots and can be quite slippery if its wet, so is not ideal for pushchairs, or wheelchairs.  They do hold nature trails for children during school holidays – see the National Trust website for details.
Dogs (other than assistance dogs) are not allowed except in the car park and picnic area.
Facilities: one toilet with baby changing facilities.
Car park fee applies.
Do you know a great park or wood you think we should know about? Let us know!