We review the Love Exploring app in Hereford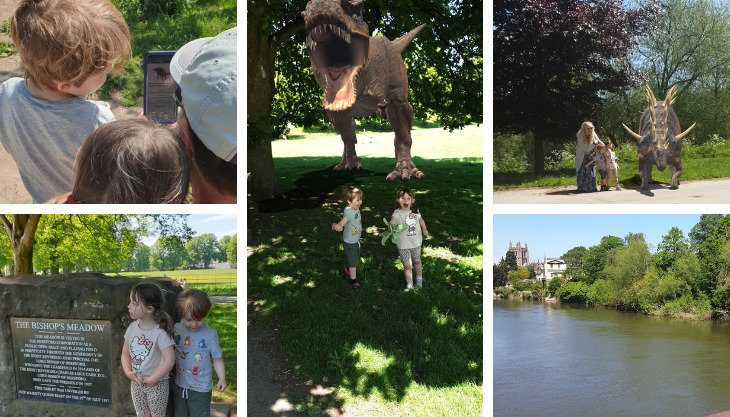 Love Exploring?
Fancy a free fun day out with the kids? Well, let us share a secret with you –  there are dinosaurs on The Bishops Meadows!!! Thanks to the Love Exploring app you can hunt for them, and see them moving through the magic of AR on your mobile device.  You can join in with the quiz, and even get your photo taken with them!
Head over to The Bishops Meadows and Castle Green in Hereford to take part in the fun.  There is loads of beautiful open space for the kids to run around, picnic, ride their bikes, play ball games and let off some steam.  There's some great play equipment too.  We usually only make it as far as the equipped play areas nea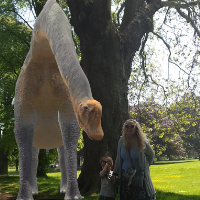 r St Martin's car park , but thanks to the Love Exploring app the children were keen to bypass the swings and head off to hunt dinosaurs!
The app is free, and you can use it to follow several trails around Hereford, learning about its history, and finding points of interest.   There is also the game!  Open this to find a map showing where the AR dinosaurs are hiding. There are 9 dinosaurs in all to find, across The Bishops Meadows and the Castle Green.  As you walk closer to them, you can spot them through the screen of your mobile device.  Just tap the red revolving circle on the screen and watch them move.  You can even stand next to them for some awesome photos!   Once you find each dinosaur, you can answer the question to test your dino-knowledge.
Active entertainment
The app encouraged the little ones to walk further than the swings and play area, crossing the Victoria footbridge to explore the Castle Green.  We recommend a short walk through to the Cathedral for a well earned snack and a drink. You may be pleasantly surprised to find The Cathedral have their own activities for kids too! Ask at the reception desk for the family friendly trails.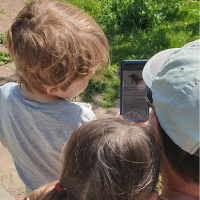 You can see more about the app, game and trails, and find a link to download it, on the Hereford City Council website here
For more tips on affordable days out in Hereford, check out the news feature here.