Our trip to Yatton Farm Park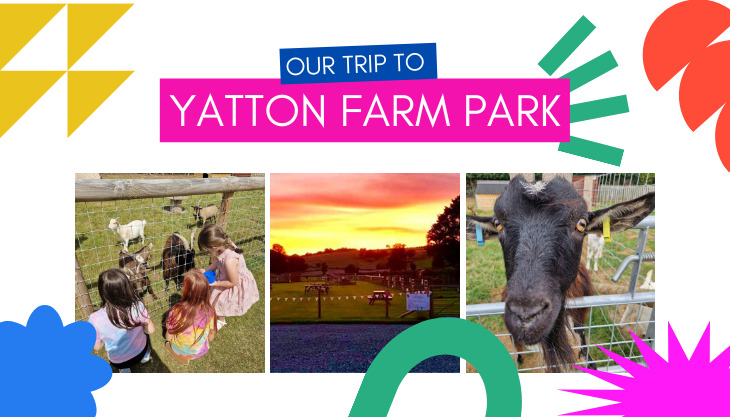 Review of our trip to Yatton Farm Park
We took the children to Yatton Farm Park in Herefordshire for our first ever visit, and we all absolutely loved it! It really is a little hidden gem, set in the most peaceful and beautiful setting.
What struck us first was how clean and fresh everything felt.  The entrance leads you directly to the picnic and seating area, which has plenty of benches, and a shady gazebo.   You can bring along a picnic, and there is a handy cabin for you to buy light snacks and drinks if you like too.  They also sell fresh free-range eggs so you can stock up while you're visiting. There's a handwashing station with plenty of soap, water, and paper towels, along with a portaloo. The staff were really welcoming and chatty, offering to answer any questions we had about the farm or the animals.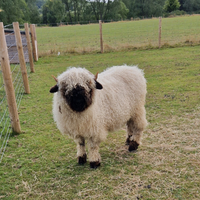 The entrance area next to the car park is the only way in and out – so parents can happily sit and have a drink or food while allowing the children to run off and explore. As the walkways around the pens are flat, you can still see the children too!  It would be perfect for larger groups, pre-schools or primary school visits, as it's so safely enclosed.
Entry Cost for Yatton Farm Park
We bought a family ticket, which gave entry for 2 adults and 2 children for just £21 (they do take card payments). Under 3's visit free of charge, and as you can bring your own food and drinks, this is a really affordable day out. It's worth noting you can buy a Yatton Farm Park season ticket for a family of 4 for just £50 – so you could go as often as you like, from April to October.  On your third visit it's already covered it's cost and saved you money!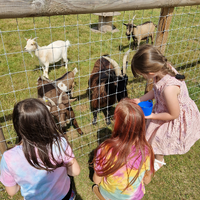 You can buy pots of feed from the cabin for just 50p, and that kept the children happy for a couple of hours! They loved feeding and stroking the animals, and really enjoyed running back to us with facts they read about them on the information signs.  We all sat on the grass and watched the pygmy goats running around, one baby had just grown little horns and hadn't quite figured how to twist his head to get it back through the fencing after it popped its head through.  The staff were on hand to help, and obviously experienced in showing baby goats how to tilt their heads to get them back through the fence.  The children thought this was so funny, especially as the goat seemed to enjoy practising the new skill.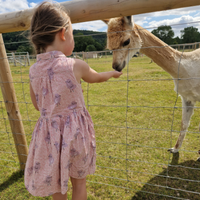 Yatton Farm Park Animals
Other favourites at Yatton Farm Park were the rabbits (how long are their ears?!) which were so fluffy and silky, the tiny chicks dust bathing in the sunshine with their parents, and the alpacas with their summer haircuts!  There are also turkeys, quail, sheep, pigs, ducks, cows and guinea pigs. The animals were very friendly and inquisitive, and the children spent ages talking to them all. The pens are the perfect size for the animals to be able to keep their distance if they prefer, yet still be seen, and the animals and pens appear very well kept.  Outside of the farm park opening times, the animals have larger fields they can roam around in, but they all seemed to enjoy seeing the children, especially when they were being fed by them.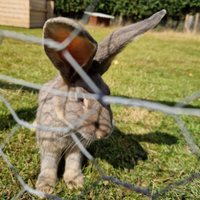 Yatton Farm Park is pure and simple fun. There is no play equipment, rides, flashing lights, bells or whistles here – it is fresh air, stunning location and lovely farm animals with no distractions, and that proved plenty to keep the children happy for several hours.  They made friends with other children visiting the farm park and loved having the freedom to explore, while we enjoyed letting them do just that knowing they were safe and happy.
Yatton farm Park is open to visitors on Thursdays, Fridays, Saturdays, Sundays and Bank Holidays through spring and summer (April through to October) from 10:30am – 5pm, with last entry at 4pm.
Be quick!
Yatton Farm Park closes for the autumn (2nd October 2022) and doesn't reopen until spring 2023.
Wheelchair Access:
Access at Yatton Farm Park: the car park is next to the entrance and has a rough stone surface.  The entry gateway is wide, and once through the gate, all walking surfaces are level access, closely mown grass. With flat pathways throughout, this is accessible for wheelchairs and pushchairs. There is one single portaloo with step up to access. Nearest Changing Places Toilet facility is at Leominster Sports and Social Club HR6 8LL.