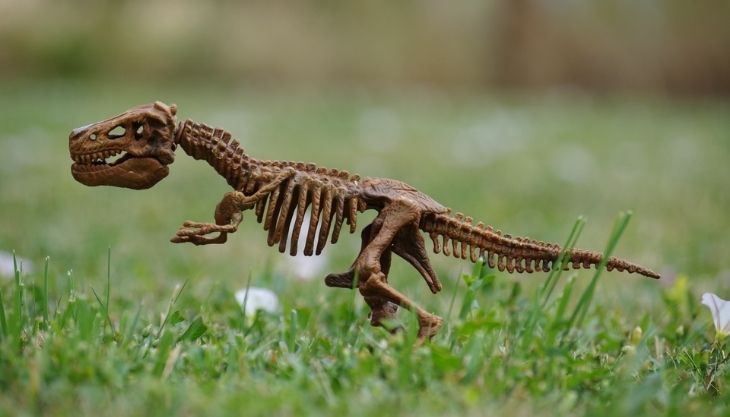 Children's love of Dinosaurs is not looking like it will be extinct any time soon and here at Raring2go! we can't believe how many opportunities there are in our area to have fun dinosaur days out with these ancient creatures.
Here are the best places to find them.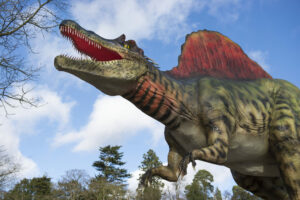 Step back in time as you come face to face with some of the largest, most unusual and fearsome animals to ever roam the planet.
Land of the Living Dinosaurs features over 40 life-size, animatronic dinosaurs, making it the largest animatronic dinosaur attraction in the UK. All dinosaurs have moving arms, tails and heads and you can even see them breathing'. Life-like grunts, squawks and mighty roars emit from the prehistoric beasts and along with themed planting, geyser and swamps, the immersive experience makes you feel as if the story of the dinosaurs is unfolding in front of you.
Reaching a huge length of almost 50 feet, one of the newest additions to the Land of the Living Dinosaurs, is a Spinosaurus. This is one of the largest and longest predatory dinosaurs in the exhibit, staying true to scientists' beliefs that Spinosaurus was the largest predator to ever roam the earth! The exhibit also features a family of Quetzalcoatluses the largest animals to have ever taken to the skies.
See friendly Stegosaurus, ginormous Argentinosaurus and the terrifying T-rex as you journey through the four different time periods, starting with the Permian and ending with the Cretaceous. There is even a chance to dig for fossils in our Dino Dig, meet our baby velociraptor and chat to the knowledgeable Dinosaur Keepers.
Dino Weekend on 23rd & 24th July 2022
Come along for an experience like no other and have a ROAR-some time for our Dino Weekend on 23rd & 24th July 2022, featuring up-close encounters with walking, moving dinosaurs! Grab a photo and say hello to Betsy the Triceratops and a variety of our 'Baby Dinos,' such as Twig the Brontosaurus and Sierra the Stegosaurus. Appearing at various times throughout the day from 11am – 4pm, Betsy loves posing for photos, plus the babies are very friendly and love cuddles! As well as being able to meet some dinosaurs and walk through the incredible Land of the Living Dinosaurs exhibit, guests can dine with dinosaurs too, as Dino Diner opens its doors following a dino-tastic refurbishment. Enjoy some delicious food in the company of three entertaining, interactive dinosaurs, in a truly atmospheric setting!
2. All Things Wild, Near Evesham
All those dinosaur mad youngsters will love the Step Through Time Dinosaur Experience, where you can get up close to these amazing creatures of the past!  Stand next to the mighty T-rex and friends, ride the Dino Land Train, search for bones in the Dino Dig or even jump aboard a real-life digger in Dino-Diggerland, you will not get bored!  Also, be sure not to miss out on the educational Dino Barn!  There's a pre-historic seas section 'Monsters of the Deep', where you can see a unique CGI Prehistoric aquarium, showing the reptiles that swam the Earth's seas millions of years ago.  You can then follow on round to the Dino section, where you can see dinosaur skeletons and fossils, and last but not least, an Ice Age section where you can discover Woolly Mammoths!  There is just so much to learn!
All Things Wild also has a mini zoo, farmyard safari and lots of great play areas both inside and out, making it a great family day out, all year round, whatever the weather!
3. Thinktank, Birmingham Science Museum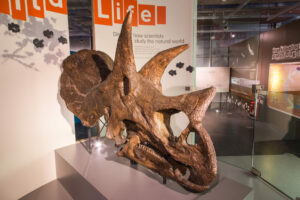 In the Marine Gallery, discover the Thinktank Ichthyosaur, a giant sea monster from the time of the dinosaurs. Explore the other animals
from the past and present that have adapted to life in the sea, including walrus, penguins and prehistoric marine crocodiles. Other highlights include the mounted skeleton of a prehistoric Giant Deer (Megaloceros) with huge antlers, plus the skull of a Triceratops.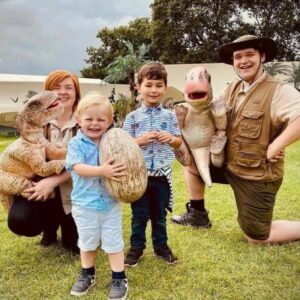 Dinosaurs are invading Hatton this summer! We're planning a roarsome programme… get up close with Dinosaurs at the meet and greet. Step back in time with a fantastic Dinosaur show. Of course the fun doesn't stop there, with Falconry displays, Superslide Mania Indoor Play, Tractor Rides, Bouncy Castles & Fun Fair Rides to name a few, you'll be sure to have a fabulous fun filled day.
5. Jurassic Live at The Alexandra Theatre, Birmingham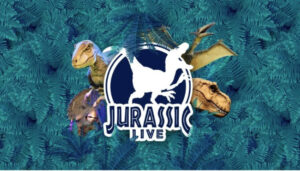 Join Jurassic Live in January 2023 in Birmingham for a roarsome adventure at the UK'S biggest and best award winning dinosaur show! Featuring mind blowing special effects, a brand new show for 2023, professional puppeteers and the UK's most realistic dinosaurs this 90 minute full stage production isn't a show to miss! Jurassic Live really is the greatest dinosaur show on earth!
6. Playland Stourport, Dino Tours
Drive your own explorer jeep through the dinosaur trail. Watch out for the T-Rex!
7. Dudley Museum at the Archives
Dinosaur Hunters can take a stroll amongst our prehistoric friends at Dudley Museum.  You'll be able to interact with many long dead species including Baryonyx and one of the earliest dinosaurs, Thecodontosaurus.  You can even take selfies with the larger than life characters.  Walk through the geology and mining gallery where and marvel at some of the 15,000 fossils, many of which are from the scientifically important Wrens Nest area, near Dudley.
9. Bilston Craft Gallery, Dinosaur room
The story of Bilston begins with its internationally-important, rocks and fossils. These precious minerals made it possible for industry to flourish and with it the creativity and ingenuity that helped to define the region. Arriving in the exhibition you will be greeted by a Norton Commando motorcycle and a three-metre long Dromaeosaurus. The exhibition features objects from many of the town's industries, including cut steel jewellery, bicycles and the world-famous Bilston Enamels, you'll learn about famous Bilston companies including Sankey, Beldray and Sunbeam. We also have a family-friendly dinosaur room which is home to Barry the Baryonyx, a full-size replica. Also on display are real fossils from the Dr. Fraser Collection and dinosaur fossil casts such as the famous Archaeopteryx, T.rex and Triceratops. You can design your own dinosaur and even dress up like a one!
10. Wolverhampton Adventure Golf – 18 Hole Family Prehistoric Adventure Golf Course at Perton Park Golf Course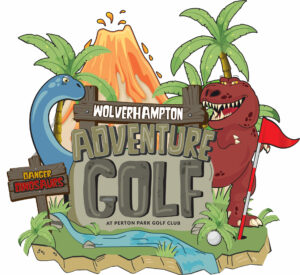 Wolverhampton Adventure Golf, is an action-packed Jurassic golf course featuring 18 specially designed holes. This fun course has been designed to suit ages from 4+ and makes the perfect venue for children's parties, family days out, corporate team building or a fun activity with friends. Come to see the rapids at dinosaur falls, survive the escaped raptors and navigate past the 20ft resident T-Rex, as you explore your way around the course.  The dinosaurs live amongst 1000 plants, a watering hole along with rapids and dinosaur falls. Wolverhampton Adventure Golf have created a custom designed outside all weather adventure golf course covering a 4,500 square meter site based at Perton Golf Club. With waterfalls, crashed cars, rapids and escaped raptors there is something to see around every corner. There is a cafe and bar onsite serving snacks and meals throughout the day. There's also a new children's playground.
11. Jurassic World: Dominion (Film, 12A)
23rd – 29th July: Jurassic World: Dominion (Film, 12A) at The Courtyard, Hereford. Four years after the destruction of Isla Nublar, dinosaurs now live, and hunt, alongside humans all over the world.
12. Dinosaur & Prehistoric Show at Eastnor Castle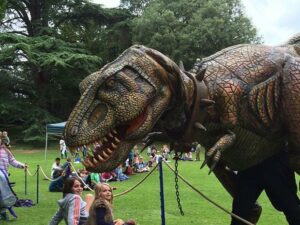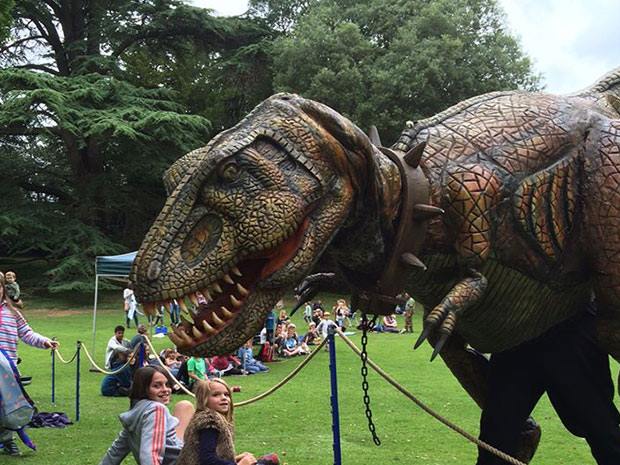 24th – 28th July: Dinosaur & Prehistoric Show at Eastnor Castle. Get ready to travel back in time with a walking, roaring T-Rex and shows throughout the day.
13. Churchfield Dinosaurs Jurassic Farm Experience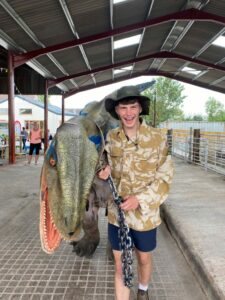 30th July – 7th August: Churchfield Dinosaurs Jurassic Farm Experience. Get up close with living, breathing T-Rex, Triceratops and friends, visit the Baby Dinosaur Nursery, follow the Fossil Trail Map, join in with the fossil dig, and take part in cavemen games & activities.
14. Dig for Dinosaurs at The Commandery, Worcester
2 – 4 August: Dig for Dinosaurs at The Commandery, Worcester. Excavate a frozen mini dinosaur, dig for bones and see a volcano come to life.
15. A Jurassic Day Out in Derby's Cathedral Quarter 
23 July: Step back in time and meet Zeus – the Giant T-Rex in the centre of Derby! Can you hear booming footsteps? Is your cup of water vibrating? That's because dinosaurs are on their way to Derby's Cathedral Quarter. Europe's largest dinosaur Zeus the T-Rex will be joined by Tank the Triceratops and Emily Bronty as the special guests on the city's Cathedral Green. The dinosaurs are the star attraction at 'A Jurassic Day Out in Cathedral Quarter,' a free family fun day, organised by the Cathedral Quarter BID (Business Improvement District). The main arena will be situated at Cathedral Green, however, throughout the day smaller dinosaurs will be roaming the streets, providing lots of opportunities for meet and greets and dino selfies. Children are invited to train as a Dino Ranger where they can dress up and learn how to look after and control the wild dinosaurs, before visiting The Hatchery to meet new-born baby dinosaurs and learn how to feed and care for them in their early stages of life. Join us for a 'roooarsome' day in Cathedral Quarter.