Raring2go Review of Lark the Shark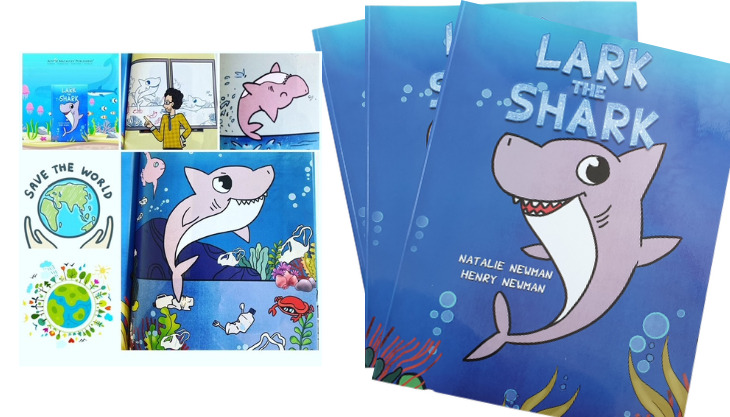 Lark the Shark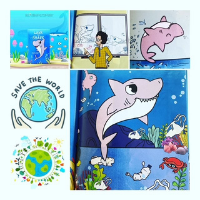 We were so excited to hear about this book, and could hardly wait to get our hands on a copy.  We certainly were not disappointed!
Lark the Shark is a tale written by Natalie Newman and her son Henry Newman (7 at the time of writing), about a friendly shark who sets out to challenge people's perceptions of him.  When the children in class are taught about scary and dangerous sharks, Lark the shark overhears and is sad; he decides to prove he is friendly and helpful.  This aspect of the story gives parents and teachers the ideal opportunity to open dialogue about stereotyping, how it can affect us to be on the receiving end of that, and how we can effectively challenge and overcome stereotyping.  It also can be used to talk about emotions, and how we deal with them.
Lark demonstrates that he is indeed a friendly shark, with many lovely qualities, and proves to be really helpful by collecting all the litter in the oceans – litter created by humans!   Such a lovely yet powerful tale, beautifully told through the words, rhymes and colourful illustrations.
Lark the Shark – About the authors
Natalie, who has always had a passion for literature – a passion shared by Henry too – loves sharks.  She had a conversation with Henry about how unfair it was that sharks have such a bad reputation,  'After all,' she told us 'all they are doing is being at home in their ocean.'  Henry's school homework topic at that time was environmental pollution – yet pollution of our oceans and seas wasn't part of that topic.  When Henry learned more about the pollution of our oceans he was shocked, and asked 'Mummy, what can we do to help?'  It didn't take long for them to combine it all together, and come up with the idea of Lark – the friendly shark who helps clean up the sea.
Aimed at readers from 2 – 8 years old, Lark the Shark has won lots of praise for highlighting the issues of pollution to younger readers, and has been shared by The Marine Conservation Society on their UK Ocean Schools Resource Hub.
Publishers Austin Macauley have perfectly captured the spirit and character of Lark in their colourful illustrations throughout the book, which is available to buy at Austin Macauley, Waterstones, Gardner's and WH   Smiths.  It is also available on Amazon here.
We love this book, and really hope to be seeing more tales about Lark the Shark very soon.
You can see Henry and his mum Natalie in their interview by BBC news:
https://www.bbc.co.uk/news/av/uk-england-london-64663346?fbclid=IwAR2fWClU_XWk7gRHXeeJQ9hjlkdMnR4_d4LLsVaMpoa65Bl-iZ4a0ILh-NA
Well done Henry!