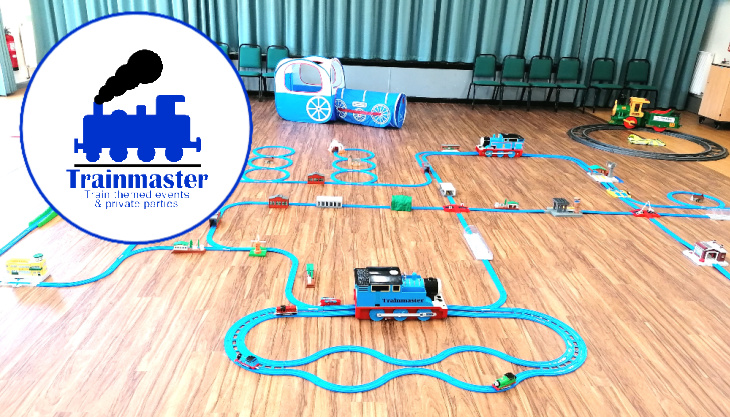 Trainmaster Dorset 🚂-multiple venues
Whether it's a rainy day, you want to get out the sun or you just love trains, Trainmaster events are award winning fun for your little ones.
Play with their GIANT, hands-on train track, loads of trains and even ride on trains at one of their events across Dorset and the New Forest including Christchurch, New Milton, Wimborne, Bearwood, Poole, Ringwood and Burton.
Sessions are suitable for active babies to children aged 6+. There's no upper age limit and children with SEN are more than welcome to join. Tammy, who runs Trainmaster Dorset is a mum to an Autistic child and happy to do whatever she can to make your visit as comfortable as possible.
For more details, dates and to book tickets, see the Trainmaster Dorset website!
Or for more local events, CLICK HERE

Reviews
Katherine: We had an amazing time with a 22 month old. So relaxed and fun – would definitely recommend a double session as the time flies by. Will definitely be booking for more sessions.
Tom: We had a fantastic hour with the Trainmaster Dorset. Fantastic selection of toys for kids to play with and very helpful and friendly staff. We will certainly be visiting you again and would very much recommend.
Sara: Took my 2 nephews to the event in Broadstone and they had a great time! Lots of things to play with, great track set up and loads of extra track to build your own track with. Great tea, coffee and snack shop too. We can't wait for the next one! 
Rebecca: Such a lovely way to spend our Saturday afternoon. Such a brilliant variety of tracks, books and puzzles. Absolute heaven for my train obsessed 2 year old!
Lauren: We had a fantastic morning at Trainmaster HQ- our children had the best time! Our son Wilf is train mad and he couldn't believe his eyes. A brilliant set up and Chloe and her husband were so friendly and welcoming. We will 100% be back and would highly recommend!
Related Events