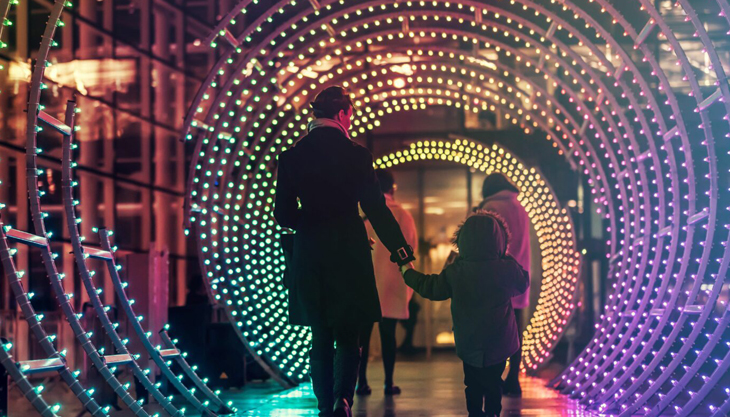 Lightwaves 2023 – a free outdoor light festival
CELEBRATING 10 YEARS: LIGHTWAVES SALFORD RETURNS THIS WINTER WITH SPECTACULAR TRAIL OF ILLUMINATED ARTWORKS
Lightwaves Salford – presented by Quays Culture – returns for the 10th time this December with a trail of spectacular art installations that will inspire visitors to explore Salford Quays and MediaCity by night.  FREE to attend,  Lightwaves Salford runs over 4 evenings from Thursday 7th December to Sunday 10th December 2023, 4pm-10pm.  No booking required, just turn up and enjoy!
Staged around outdoor locations across Salford Quays, Lightwaves Salford invites families and friends of all ages to get together and explore captivating light installations that transform the waterside environment after dark.  This year Lightwaves will feature 15 artworks, three of which are brand new commissions by Quays Culture.  The full programme will be announced later in November, but visitors can expect a variety of different works using light, sound and technology to create a mesmerizing experience.  Some of the highlights will include:
See a whale shark diving in the waters of the Quays
A world-premiere, CETUS is a luminescent artwork taking the form of a 6-metre long whale shark. The life-like appearance is enhanced by transparent fish scales, creating a shimmering effect as it swims through dark waters.  CETUS has been commissioned by Lightwaves Salford from Loomaland – the Berlin-based artists who created CYGNUS, the flotilla of 12 floating swans that was popular at Lightwaves 2021.
A tunnel of giant mirrored rings stretching across the piazza at Media City
Pulse is a large-scale, immersive installation which spans a 50 metre stretch of  the MediaCity Piazza.  Made up of huge mirrored rings, audiences can enjoy the multi-sensory experience of moving through the installation. Pulse is created by Loop, UK-based artists whose playful sculptures invite audiences to take part in thought-provoking audio visual journeys.
Play as a pollinating insect moving between giant glowing flowers
On a more intimate scale,  The Nectary is created by artist Alison Smith with Dr Chris Hassall and uses light and sound to envelop you in a multi-sensory experience. Six giant hanging blooms allow visitors to immerse themselves in nature and increase appreciation for delicate ecosystems that are so crucial for our future.
Step into a garden of fire and roam among  giant moving sculptures
Award-winning pioneers of outdoor art, Walk the Plank, return to Lightwaves Salford with a Fire Garden which includes three brand new giant sculptures – one over 9 metres in size.  The Fire Garden blends moving sculpture with fire and light to create an exhilarating spectacle that visitors of all ages will enjoy.
Kate Doyle,  Head of Programme for Quays Culture shared her excitement about this year's 10th anniversary line-up:
"The team at Quays Culture are truly excited by the programme of artworks curated for the 10th edition of Lightwaves Salford. Year on year the event delights audiences of all ages and we're certain that 2023 will be no exception.  The programme is our best yet; it's a culmination of the decade we have spent bringing world class light art to the Quays, and always for free to our audiences.
As humans we have a primal response to light, especially in the dark winter months. It brings warmth, wellbeing and intensifies positive emotions. All are welcome to Lightwaves Salford and to experience the joy of light art!"
No tickets are required to attend Lightwaves Salford, visitors can simply turn up and explore the trail of artworks at their own leisure.  Maps of the trail will be available online in advance and on the night, though visitors are welcome to use any route they like to explore Lightwaves Salford.   More details about the programme will be released at the end of November.
Follow Quays Culture socials for the latest updates:
Instagram: @quayscultureuk        Facebook: @QuaysCulture
Lightwaves Salford is part of Light up the North, a network of northern light festivals which have come together to share their collective expertise.
Website:  www.lightupthenorth.com/lightwaves
Related Events