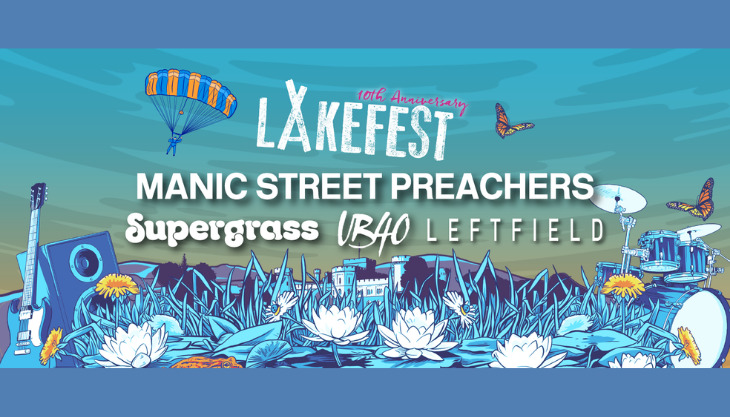 Join us for an unforgettable family weekend at Lakefest – THE family friendly festival.  This is the 10th Lakefest, and is an event not to be missed.  Early booking is recommended!
Line Up includes UB40, Leftfield, Manic Street Preachers, Supergrass, Radio 1's Charlie Hedges, Slipmatt, Lisa Loud, Sol Brothers, Goldie Lookin' Chain and many more.
2022 Line up
Abbey Main Stage
Thursday UB40. The Professionals
Friday Leftfield. Ride. Republica. Alex Lipinski. Erica. Dead Dads Club
Saturday Manic Street Preachers. REEF. Louise Redknapp. The Reytons. Town of Cats. The Shakes
Sunday Supergrass. The Feeling. Betty Boo. Roving Crows. The Mighty VU
Retrospective of House
2022's Dance Stage! Lakefest is immensely proud to present… 'A Retrospective of House' Old Skool, and too cool!
Charlie Hedges (Radio 1) // Mark Doyle (Hed Kandi) // SLIPMATT // Lisa Loud // Sol Brothers // SEB FONTAINE // LISA UNIQUE // Jon Pleased Wimmin // DJ Nooly
plus local DJ's
Floating Globe
Thursday Mark Walby Band. Sunfire. Urban Folk Theory
Friday Johnny Cash Roadshow. Seth Lakeman. Zion Train. Dana Immanuel & the Stolen Band. Greenman Rising
Saturday Goldie Lookin' Chain. Afro Celt Sound System. Hannah Moule & the Moulettes. Beans on Toast. Laurie Wright
Sunday Dhol Foundation. Skippinish. Holy Moly & the Crackers
After Hours
Thursday No Good Nancy's. Tri-city Fanfare
Friday The Font. Huron. Iron Boot Scrapers. Battle of the bands winner
Saturday Pretty Criminal. Joe Wheldon & the Offshore. Johnny Clash. The Bradeney Bunch
Sunday Frazer Lepford. Brian Stone. Milly Mason
BBC MUSIC INTRODUCING
BBC Music Introducing in Hereford & Worcester celebrates the very best unsigned, undiscovered and under-the-radar music from across our area. These performances will be broadcast throughout August, every weekend from 6pm, on BBC Hereford & Worcester.