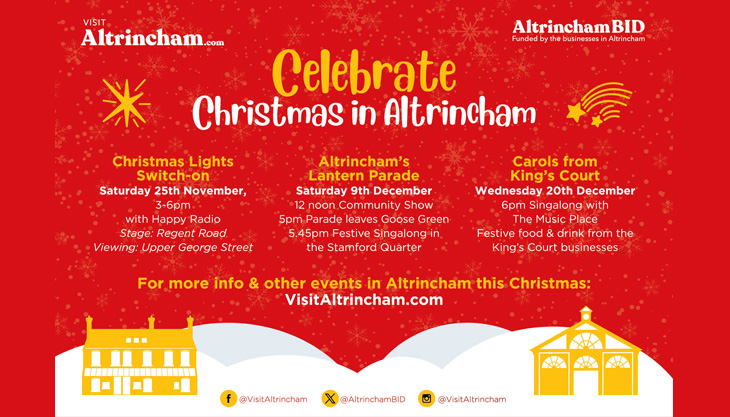 Celebrate Christmas in Altrincham
Celebrate Christmas in Altrincham!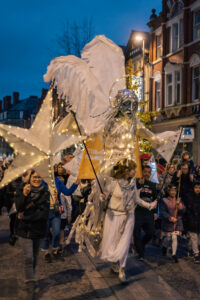 Altrincham is gearing up for a spectacular Christmas celebration, kicking off with the much-anticipated Christmas Lights Switch-on on Saturday 25th November. Hosted by Happy Radio's Darren Proctor and Chelsea Norris, this event promises a star-studded line-up – to be announced!
The switch-on stage will be on Regent Road, with an additional relay screen on the Travelodge bridge, allowing the audience to enjoy the show along the length of upper George Street. The show begins at 3pm with a heartwarming performance by the Little Belters, also taking part are The Music Place Choir, Sing It! and Wellington School's Year 7 Choir. Santa will be putting in a special appearance by joining the celebrities on stage to press the big red button and illuminate the town's lights at 6pm.
The town's Christmas Lights Switch-on is organsied by Altrincham BID, who produce Visit Altrincham. The event is funded by Altrincham's businesses, with additional sponsorship from Altrincham Football Club, Assura, Calderpeel Architects, Capstone Financial, The Con Club, Gran T's Coffee House, The Grafton Quarter, Handelsbanken, Hill & Company Solicitors, McHale & Co Solicitors, Jameson & Partners Estate Agents, Kier Construction, Lund Bennett Law, MLP Law and Rasassi Restaurant.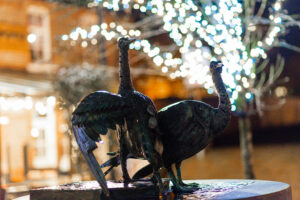 The town's magical Lantern Parade takes place on Saturday 9th December. Starting at midday, local school and community choirs will take to the stage in the Stamford Quarter. The parade itself starts at 5pm from Goose Green, winding its way through town and concluding at The Stamford Quarter for a festive sing-along with The Music Place at 5.45pm. The parade includes large lantern puppets, along with lanterns made and carried by local school children who have participated in workshops. You'll also spot members of Altrincham Football Club Women's Team, performers from the Altrincham Garrick Playhouse's Sleeping Beauty, Dorothy and the cast from Planet Ice's Wizard of Oz, Altrincham Football Club, dancers from Cardwell Theatre School, and even Santa himself!
The Lantern Parade is produced by Altrincham BID with the support of the town's businesses and additional sponsorship from the Stamford Quarter.
The festivities continue with 'Carols from King's Court' on Wednesday 20th December, starting at 6pm. The singing will be led by The Music Place, and there will be festive food and drink from the King's Court businesses. No reservations are necessary—simply come along and enjoy the festive sing-along. 'Carols from King's Court' is organised by Altrincham BID and the King's Court businesses, with sponsorship from Full Circle Funerals Partners.
And that's not all! A whole schedule of festive workshops, activities and events have been organised by Altrincham's businesses and are featured in Altrincham BID's 'Celebrate Christmas in Altrincham' flyer, be sure to pick one up next time you're in Altrincham or download one from: VisitAltrincham.com
Mandy White, Altrincham's BID Manager, explains, "Altrincham offers a fantastic range of magical events during the Christmas season. Our town boasts an exceptional array of restaurants, bars, and cafes, making it the perfect spot to celebrate with loved ones. With a wide variety of shops, including both high street favourites and some wonderful independent stores, it's the ideal place to complete your Christmas shopping list. We encourage locals and visitors alike to join us to celebrate Christmas in Altrincham."
Related Events