Ultimate Activity Camps – Get Set for Ultimate Holiday Fun!
Ultimate Activity Camps provide outstanding activity day camps for children aged 4-14 during the school holidays, where the children's welfare and fun are at the heart of all we do! Children will enjoy over 40 sports, games and art activities every week led by engaging staff at amazing locations.
Ultimate Activity Camps provide outstanding Ofsted regulated Easter and summer activi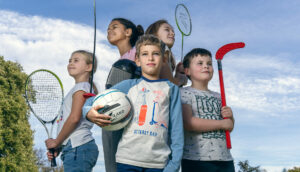 ty day camps with the primary function of delivering a very high level of care and welfare for 4-14 year olds during the school holidays. We deliver this childcare through a fantastic range of exciting activities whether these be in the art room, the sports hall, playing fields or in the woods.
We use our many years of experience and enthusiastic staff to create a programme that changes each day and delivers the outstanding levels of care you would expect whilst ensuring that kids of all ages are thoroughly engaged and inspired to try new activities and make new friends.
Meet new friends and try new activities
Children will have an amazing time, and you'll be confident that they're in a safe and organised environment. As well as providing safe activities and experienced staff, our activities encourages the positive physical and social welfare of children.
Each week, children on Camp are divided into groups of children of a similar age to ensure they get the appropriate level of care and instruction, make new friends and maximise enjoyment. We have 4 age-groups which allow us to put children together of a similar age, although these age groups are not fixed so we can adapt the programme to best suit the children, friend requests and locations needs.
Children can attend from just one day to multiple weeks and anything in between, allowing you to create an active holiday programme that fits around your needs. Ultimate Activity Camps run Monday to Friday during the school holidays, with an action-packed programme that starts at 9:30 and finishes at 16:30. You can drop off children from 8:30 and collect until 17:15, or if you need longer days, you can take our optional Extended Day Pass which allows you to drop off from 08:00 and collect until 18:00.
For more information and to book, please visit the website.
To find out more about local holiday holiday clubs and classes, please visit the Holiday Clubs section of the Raring2go! website.
To see more local events, please visit the Raring2go! What's on Guide.