Support Dogs (registered charity number 1088281) is a national charity dedicated to saving and improving the lives of children and adults with autism, epilepsy, and disability. We provide, train and support specialist assistance dogs to achieve this.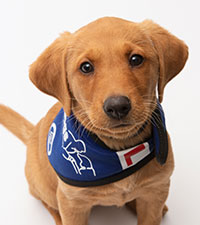 Established in 1992, Support Dogs works across England, Scotland and Wales and provides all it services entirely free of charge to those in need of them. However, the charity relies solely on voluntary donations and receives no government funding. We have lots of fundraising events that take place all across the U.K that you can get involved with, from running challenges, to comedy nights, to skydives and abseiling, there's something for everyone and you will help raise vital funds for a charity that completely changes people's lives.
Support Dogs specialise in three specific programmes:
Autism assistance dogs for autistic children. Support dogs are trained to provide safety for the child, reduce their stress in social environments and facilitate a more independent and socially inclusive life for both the autistic child and their family. Our autism assistance programme is life-changing for both the autistic child and their family.
Seizure alert dogs for people with epilepsy. Support dogs are trained to provide a 100% reliable, potentially life saving alert up to 1 hour before an epileptic seizure. This enables the client to find safety and be in control over their seizure, allowing a much more independent life. Epilepsy is the most common neurological illness, with over 600,000 cases in the UK. Thirty per cent of people with epilepsy are unable to control their seizures through medication. Instead they live with the fear of an oncoming seizure which can occur at any time. This fear affects everything they do, limiting their independence and ability to live an active life. Around 1,000 people with epilepsy die each year and research suggests that most of these deaths are sudden and unexpected. The warning provided by a seizure alert dog means that a client can remove themselves from any danger and have a seizure in a safe environment. With the confidence that they will be alerted in advance of any seizure, our clients are able to live more independently. Day-to-day tasks, including going to the shops, cooking, ironing and having a bath, which would previously have been hazardous, are now manageable on their own and in safety.
Disability assistance dogs for people with physical disabilities. Support Dogs' aim is to improve the quality of life and independence of people with a wide range of physical disabilities by training their own pet dog as a disability assistance dog. Our disability assistance dogs are trained to assist and support their owners by carrying out tasks which are specifically tailored to their needs, e.g. opening and closing doors, helping with getting dressed or undressed, or raising the alarm.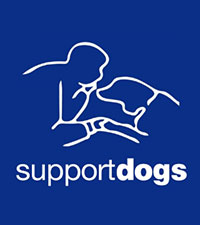 Support Dogs are one of the founder members of Assistance Dogs UK. ADUK provides a kite mark of excellence in assistance dog training. All ADUK dogs adhere to the highest training and welfare standards as set out by Assistance Dogs International and the International Guide Dogs Federation.
To find out more about Support Dogs click HERE
For local events / things to do go visit Raring2go! What's On pages HERE