Pippins Day Care at Trinity Methodist Church, Codsall
Monday to Friday 9.15am – 12.15pm, term-time – Breakfast and lunch club wraparound available – Funded and non-funded places for available for 2-5 year olds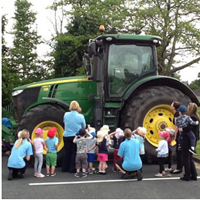 We are a community based nursery, attached to Trinity Methodist Church on Histons Hill in Codsall.  A pre-school has been run on this site for over 50 years, and whilst previously run by a voluntary church committee, the provision was taken over by a local nursery company, Little Treasures Nurseries, in September 2016. We are pleased to announce that it is now under new ownership as Pippins Day Care. The Nursery Manager, Lisa was joined by Kellie as Deputy, who are both looking forward to managing the new setting.
Our sessions are filled with fun, exciting and innovative activities and allow all children to learn through play. We enjoy messy times and outdoor fun in our enclosed, safe garden and all children are encouraged to participate. We grow our own fruit and vegetables and encourage children to try a variety of different foods and experiences. Our children go home after each session with happy faces eager to tell parents all about their day!
We are passionate about involvement with the local community having invited the local Fire service, the lollipop lady, the Police, the Dentist, the Doctor, the Ambulance, the local Farmer and the Postman who have all helped us to offer the children a breadth of experiences! We also visit the 'Assisted Living' in Codsall to spend quality time with the ladies there, engaging in activities together.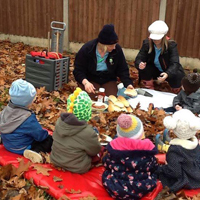 We continue to work very closely with Trinity church, visiting several times for celebrations such as Harvest time, Christmas and Easter. More recently we have worked with the church on our community 'Bake-off' day and with our entry to Bilbrook and Codsall Scarecrow Festival.
We have a great relationship with parents, having several families returning to us with their younger children. Parents give outstanding reviews of our setting such as:
"I would highly recommend this setting to anyone!! The staff are just so caring, thoughtful and each week they amaze children and parents with new and exciting activities. The children learn so much whilst having such fun. An excellent nursery setting with wonderful resources and amazing staff. Outstanding!" (Rebecca)
"Such a wonderful nursery with a friendly family atmosphere. Our son loves it! Our daughter will be starting soon and she already wanders in every morning and starts playing happily. Cannot recommend highly enough." (Erin)
"Well done Lisa and Kellie you have worked so hard to be able to welcome the children back. Isabella is loving being back. If anyone is looking for a playgroup for their little ones I recommend 100%. Thank you both for all your hard work." (Lesley)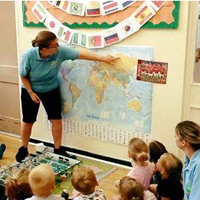 For more information or to arrange a visit contact Lisa 07703 616822 or email pippinsdaycare@gmail.com
Visit www.pippinsdaycare.co.uk
Facebook  Pippinsdaycare31