Put Painshill on your list for a great family day out!
Painshill is an award-winning 18th century landscape garden, covering 158 acres, where you are invited to walk around a work of art; the beautiful landscape garden, based in Cobham, has everything to get the kids back to nature.
Winding paths take you on a journey to discover stunning views, meadows to run through, trees to climb and amazing garden buildings, including a Crystal Grotto, Gothic Temple, Turkish Tent, Ruined Abbey, and bridges that were featured in Bridgerton.  Stroll around the lake and relax in the tranquil atmosphere. There is always wildlife to spot and beautiful reflections from the bridges.
The spectacular Grotto is a magical cave with pools of water and a ceiling covered in sparkling crystals. It has first created by Charles Hamilton in the 18th century and restored by Painshill Park Trust in the 2010s. It is a stunning place where you will not want to put your camera down.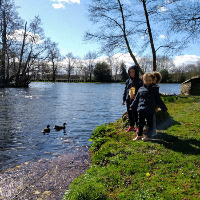 Outdoor activity cards and nature trails are available from the Visitor Centre. Smaller children may bring a bike or scooter in to help them around the landscape and there is a completely accessible route around the lake for those with buggies. Also, dogs are allowed in on short leads, so the whole family can come in and enjoy!
For families there is a natural play area made with materials from around the landscape garden.  The area includes a log house, dens, stepping stones and balance logs.
You can spend a whole day at Painshill or there are shorter accessible routes. Bring a picnic or visit Hamilton's Tea Room for some delicious treats and refreshments, and don't forget to visit the Painshill Shop to view an extensive range of gifts, souvenirs, decorations and even Painshill's very own Sparkling Wine.
Dogs are very welcome.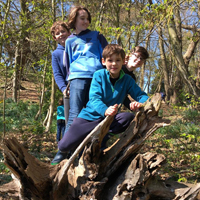 Painshill's holiday day camps are glorious, totally outdoor days spent in the forest and landscapes of Painshill – running, climbing, playing, making friends and developing practical skills. Give your kids a truly wild time with campfire cooking, bushcraft, wild art, den building and more.
Run by a highly experienced Education Team, who spend the rest of the year leading school visits and Forest School, Painshill camps enabled children aged 8 to 13 years to learn woodland skills as well as having fun-filled hours, away from their screens, playing outdoor games.
For more  information on Painshill just visit www.painshill.co.uk