Welcome to Laser Squad Laser Tag! Are you looking for an exciting and unique outdoor gaming experience? Look no further!
Laser Squad at Queen Elizabeth and Queen Victoria Country Parks
Our outdoor, country park venues are the perfect setting for an immersive and tactical laser tag game. You'll feel like you're on a real-life mission as you navigate through the trees and bushes across rough terrain, trying to outsmart and outshoot your opponents and meet the game objectives.
Day out for the whole family
Whether you're a younger child looking for a fun-filled game or an older child or adult seeking a tactical challenge, laser tag has something for everyone. Not only is it a great way to have a blast with friends and family, but it's also a fantastic way to get moving and stay active. Our games are a great way for kids to burn off energy, improve coordination, and develop teamwork skills.
Enjoy the Outdoors
But it's not just about the gameplay – our beautiful country park setting provides a peaceful and natural environment for you to enjoy. Take a break between rounds and breathe in the fresh air, or simply admire the surroundings as you strategise with your team.
Laser Squad Parties and Team building events
We hold regular public sessions on weekends and in the school holidays, where you'll join other groups with no minimum booking numbers required, or if you're looking for something more exclusive, we have private hire options suitable for parties, organised groups such as scouts or guides, team building events, stag and hen events or even just getting a larger group of friends and family together to play.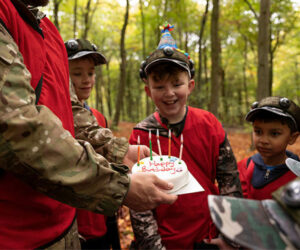 So why not plan a visit to Laser Squad and experience the thrill of outdoor laser tag in our stunning natural settings. You won't be disappointed!
Venues: Queen Victoria Country Park and Queen Elizabeth Country Park
Tel: 07833 281 576
Laser Squad website click here.