Kidabulous is a fun and exciting indoor play area in Sunbury-on-Thames suitable for all children aged 12 years and under.
At Kidabulous you can relax knowing your kids are having fun in a safe environment. So whether you choose one of our great parties, or you just bring the kids along to burn some energy and meet new friends, Kidabulous is the softplay centre for YOU!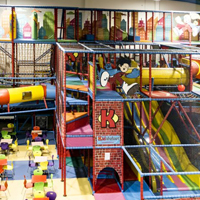 With two huge areas of indoor soft play at Kidabulous: our giant playframe with 5 storeys of fun and Toddler Town, with a whole floor dedicated to our early years' visitors with lots of soft-play and role play learning available.   Each floor also has a café, with free Wi-Fi available throughout the building, making it great for the grown-ups too!  We're pleased to confirm that we've received a 5* food hygiene rating from The Food Standards Agency.
We believe that the little ones sometimes need their own space. That's why we've built Toddler Town: over 2000sq ft of specifically designed indoor soft play for Babies and Toddlers on its own separate floor (with lift access).
For babies: 1-2 years old:
Soft play areas for your baby include an educational zone with puzzles, rockers, games, interactive play panels and fun blocks for building and sliding.
For Toddlers: 2-4 years old:
Toddler Town has its own soft play high street where your little ones can role play in our mini café, our fun fair with mini skelter slide, the kart track complete with 'car wash' area, a merry-go-round, swings, slide zone, bash bags, ball pool, hanging snakes, game panels and much much more!
…and there's plenty of seating alongside to relax while watching the littles ones as they play and learn.
Got something to celebrate?
Kidabulous is the place for you – our parties give you two hours of fun, frolics and food.
Choose a classic party, a laser tag party, a pre-school party, or even book exclusive use of the whole Kidabulous play centre!
In other exciting news, we were lucky enough to partner with crisp brand, Walkers, for a recent ad campaign – which was filmed in a carefully disguised Kidabulous!  You can watch the advert on YouTube.
To keep custom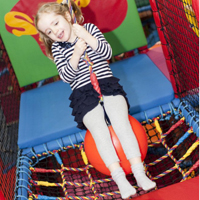 ers and staff safe, we've seen the introduction of a track and trace system and the use of an Anti-Viral Fogging Disinfection System, there's new plastic screens at each cafe counter, and we set-up our very first online booking system, which enables customers to book 90-minute time-slots.
For our early years visitors, we welcome back the instructors of Mini Movers Music classes *, and Creation Station**, who have been successfully running socially distanced, Covid-secure sessions ever since we re-opened. In place of face-painting, we'll be offering arm painting by AboutFaces, every Saturday from 10am – 1pm.
*Mini Movers Music Classes run every Monday at 10.30am and 11.30am during term time
**Creation Station Sessions are held every Tuesday at 10am during term-time