Are you visiting HOME for the first time? From parking to buggy parks here you'll find everything you need when visiting us as a family!
Getting here
Our nearest carpark is Q-Park First Street. The carpark is located just a few minutes walk from us and has priority parking for those with children. You can receive a discount of 25% when you pre-book your car park ticket online, using the code: HOMEMCR25. Click here to pre-book your car park ticket. 
Pushchairs
Bringing a pushchair? No problem. We have dedicated spaces throughout our building for you to store your pushchair so whether you're in a show, screening or at our restaurant you can rest easy that it'll be safe and sound.
Toilets
Baby changing is available on our ground floor and first floor with plenty of space inside and pull-down changing areas.
Food & Drink
Our restaurants and cafes are family friendly with highchairs and dedicated children's menus. To find out more and to book a table click here.
Creativity Corner

Launched on 30 May, our Creativity Corner is HOME's new free, family-friendly area. Located on the ground floor, this free and creative space is open on a daily basis during school holidays for self-led arts and craft activities. Find out more.
Upcoming Family Events/Activities
Families are one of HOME's key audiences, and this is reflected in every area of our programme. In addition to hosting family-friendly productions, screenings and accompanying workshops, we also invite mothers who are artists to take part in a monthly peer support group and creative exchange session. In addition, we recently hosted our very first Open Day, providing free family-friendly events, activities, screenings, cup-cake decorating and more!
Baby-Friendly Screenings
In addition to our selection of family-friendly films, we also regularly host Baby Friendly Screenings. Baby Friendly films are selected from the HOME film programme and include new releases and seasonal programming. All films for Baby Friendly screenings will be certificates U / PG / 12A. Find out more information here:
Relaxed Screenings
Relaxed Events are also a staple in our film programme. Designed for people with autism spectrum conditions and their families so they can enjoy the arts together in a stress-free environment, these events are also suitable for people with sensory conditions, dementia or learning difficulties. Fin out more information here:
Family Events 2022/2023
Find out more about the types of family-friendly events and activities we have coming up by visiting our web page here; 
HOME is Manchester's centre for international contemporary culture. Since opening in May 2015, HOME has welcomed over three million visitors to its two theatres, five cinemas, art gallery, book shop and restaurants. HOME works with international and UK artists to produce extraordinary theatrical experiences, producing an exciting mix of thought-provoking drama, dance and festivals, with a strong focus on international work, new commissions and talent development.
HOME's ambition is to push the boundaries of form and technology, to experiment, have fun, take risks and share great new art with the widest possible audience. The patrons of HOME are Danny Boyle, actress Suranne Jones, playwright and poet Jackie Kay CBE, artists Rosa Barba and Phil Collins, filmmaker Asif Kapadia, and actress and author Meera Syal CBE.
www.homemcr.org | @HOME_mcr | Facebook HOMEmcr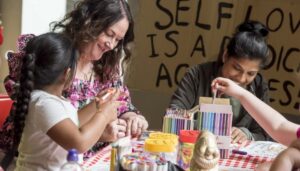 Contact us
Box Office 0161 200 1500
Restaurant 0161 212 3500
For general queries, please email: info@homemcr.org
Address
2 Tony Wilson Place
Manchester
M15 4FN