FlipOut Hereford
Fun for all the family!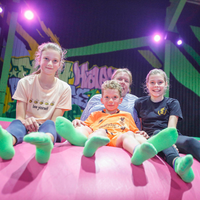 With loads of fantastic features, the FlipOut Hereford arena has something for everyone, with loads to keep both adults and kids entertained for hours. It really is suitable for all ages!
Save on your visits with our All Inclusive deal, or for even more savings, a Membership.
With free onsite parking and our Flip Out café offering tasty food and drinks, we have everything for the perfect day out.
Expect to see more than just arena sessions with Flip Out birthday parties, After Dark sessions, our Stay and Play toddler and dedicated quieter SEN sessions.
Experience some healthy, active and exhilarating fun with your family!  We have a special offer so you and your family can give it a try. Enjoy a 1-Hour Family Time Experience inside our arena. 'Making Memories', bonding and togetherness are at the heart of our Family Time Session. 👨👩👦👩👦
With this AMAZING OFFER you get:
1 hour jump time for your family* of 4 (*2 Adults and 2 children OR 1 adult and 3 children).
All 4 of you will have full access to all the attractions and areas during your session – the ultimate indoor experience!
FREE FlipOut Pumped Up Socks for every participant.
Discover how much fun you can have with your family! Our arena is perfect for family days-out and activities, especially great for those rainy days. With a range of revolutionary equipment, staying active has never been so much fun!
Book your Family Time package today, and you and your family get all this fun for just £40.00. If you don't feel one hour is enough, we also run 2 hour family time sessions for just £50 for the family*.
Other offers
Why not break up the week with a Mid-Week Experience – where you can enjoy 2 hours for the price of one?
THE ALL INCLUSIVE 🤩 🌭🥤🧦
Are you looking for the simplest form to purchase EVERYTHING you need to make the perfect session? Well, the ALL INCLUSIVE is here 🤩 🌭🥤🧦
What's included:
Here at FlipOut Hereford, we have got you covered! In groups of 3, 4, 5, or even 6 this session provides for you:
•    2-Hours of bounce time
•    FlipOut Pumped up socks
•    UNLIMITED Star Slush
•    Our AMAZING Hotdog to finish
Group of 3: £54.95
Group of 4: £64.95
Group of 5: £74.95
Group of 6: £84.95
All that's left to do, is grab your nearest & dearest and book your session now!
FlipOut Hereford membership
Why not turn your love of FlipOut into a fun hobby? Sign up for a membership and enjoy FlipOut as often as you like!
ANNUAL MEMBERSHIP
Our Annual Membership entitles you to 1-hour or even 2-hours of fun at FlipOut Hereford EVERY SINGLE DAY, every day, no restrictions….. ALL YEAR !
Why not turn a treat into a hobby with some ACTIVE FUN on a regular basis in the AWESOME FlipOut Hereford arena?
Come and join us for great value, great fun and lots of smiles.
The potential savings are Huge!
Please give us a call to book your session with us.
1HR annual member ship – £125 per person
2hrs annual membership – £200 per person.
(please note Annual Membership sessions do not run on Special Events, SEN sessions & After Dark sessions).
Other Important information
For the best experience, please arrive 30 minutes prior to your session – this allows time for you to get parked up, and checked in.  A valid FlipOut waiver must be signed and FlipOut Pumped socks must be worn at all times!
FlipOut terms and conditions apply – please check the website here for details.
Please like and follow us on Facebook for all our updates and offers.  Call us, or message us with any questions – we would be happy to help!
Before your visit
•    Read Our Terms & Conditions
•    Read Our Advice Before You Bounce
•    Arrive 30 Minutes Prior To Your Session
•    Sign Your Waiver In Advance
•    Purchase or bring Flip Out Socks
•    Have a FLIPTASTIC PUMPTASTIC time!