Family adventures at Durham Cathedral
We love welcoming visitors of all ages to Durham Cathedral. Come and explore, learn, enjoy, play, and experience the wonder of this historic place and the surrounding riverbanks.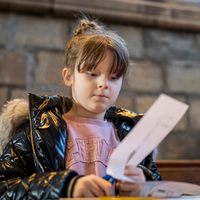 Family activities & events
Family activities and crafts are planned during school holidays, for latest details please click HERE
See the cathedral's sights and heights
Take a tour of Durham Cathedral with an expert guide to discover our hidden stories or challenge yourself to climb the 325 steps to the top of the cathedral's central tower.
Be an outdoor explorer
Explore the woodland paths and riverside trails around the cathedral. Take a look at the woodlands and riverbanks page to download walking routes and more information HERE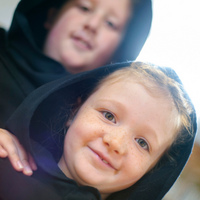 Calling all wizarding fans
Don your wizarding house colours and robes to explore some of Durham Cathedral's famous filming locations. Get a selfie in the cloisters and see if you can position yourself where the magic took place.
Over the years, we've welcomed film crews to Durham Cathedral, often the perfect location for everything from documentaries to blockbuster films. Notably, various locations across the cathedral were used in Harry Potter and the Philosopher's Stone, Harry Potter and the Chamber of Secrets, and Avengers: Endgame.  For filming location details please click HERE
Don't forget to look up…
Take some time and see what you can find when looking up at the vaulted ceilings, the pillars, colourful stained glass windows, the font and Prior Castell's Clock. The most amazing things to see in the cathedral are often up high above your head. Prepare to surprise your eyes with 'wow' moments at every turn.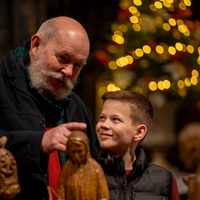 Light a candle
Some people like to light a candle as a sign of prayer, which continues to burn after they have left the cathedral. If you like, you can write your prayer on a piece of paper and leave it in the basket. We will then read out your prayer at a service.
Junior Church
Every Sunday during term time, children of primary school age are invited to attend Junior Church at Durham Cathedral and explore the Christian Gospel through storytelling and craft activities. Each week get hands on with lots of crafts and read stories that help learn more about the values of Christian faith.
Children of primary school age are welcome to come along with parents at 10am to the Sung Eucharist service, then after a welcome the children will move through to the Chapter House and begin their activities. Children will then re-join for the final part of Holy Communion before refreshments in the Galilee Chapel. Find out more HERE
For more information about family events and activities please visit the Durham Cathedral website