Clever Clogs Nurseries are a family of two independent OUTSTANDING nurseries situated in the North East of England, with both our sites located in Durham (Belmont and Bowburn). We are one of the region's most well-respected and experienced childcare providers.
Offering nursery care, after school and before school services, holiday clubs and extra curricular classes we are proud to provide a safe, happy, caring environment where children aged 0-11 can have fun and learn.
We know how much of a personal decision it can be to choose a nursery.   At Clever Clogs Nurseries, we understand the needs of both parents and children and we hope to make the decision easier for you.
At Clever Clogs we offer the highest quality childcare and facilities and the perfect environment for those looking for childcare in Durham.
We plan your child's nursery experience very carefully and sensitively, taking into account the individual needs and requirements of all our children. We provide a safe, loving and stimulating environment where they can make lots of little friends and where we promote the learning and development of babies and children through lots of fun activities.
Come & Visit Us! 
Tel: 0191 377 9192  for more details or visit https://cleverclogsnurseries.co.uk/
Out of School Care
We also provide out of school care including holiday fun clubs and before and after school care for children aged up to 11.
Our out of school services offer parents of older children flexible childcare solutions that  work around work and other commitments.
With ever demanding work schedules it can be tough to juggle getting the kids to school and making it to work on time, particularly when you have to drop off one child at school and another at nursery.  Our out of school care is designed to take the hassle out of the school run by providing flexible solutions that work around school and work hours.
We provide drop off services which enable parents to leave their children at the nursery in the morning while our qualified staff escort the children at the local schools at the appropriate time.
In addition we provide after school care where we collect children from school and look after them in a dedicated out of school area of the nursery until parents are ready to pick them up.
The separate area for older children includes a quiet area for homework and activities such as games, arts and crafts and games consoles.  Children are supervised at all times and help with homework is available.
This service is aimed at school aged children up to 11 years old.  We pick up and drop off during school term time.
The children will be escorted by our fully and trained and experienced staff at all times.  Having operated this service for a number of years, we have built up strong relationships with the participating schools and we have a very robust set of procedures to ensure that children are safe and secure in our care.  We follow the same ethos and high standard of care that we do throughout our nursery.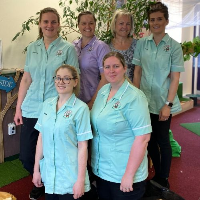 For more information on the schools involved in the Before and After School Care please contact Belmont or Bowburn for an information pack.
Tel: 0191 377 9192  for more details or visit https://cleverclogsnurseries.co.uk/