Welcome to Burley Gate Nursery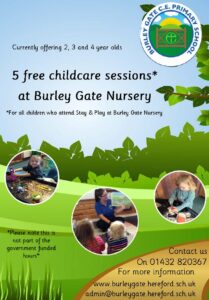 At Burley Gate Nursery, we offer a nurturing and safe environment. The children are at the centre of everything that we do.  We believe children learn best when they are interested, curious and engaged, which is best achieved through play.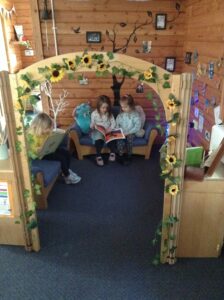 The curriculum we deliver is based on the Early Years Foundation Stage (EYFS) Early years foundation stage (EYFS) statutory framework – GOV.UK (www.gov.uk) . We know that when children are playing and selecting what to do themselves they become deeply engaged.  Within the setting, the adults observe and wait for a moment in which they feel they can make a difference. They interact to teach the next steps appropriate to the individual child. Each time the adults interact with a child, they are observing, assessing, planning for and responding to that individual child. The interactions are the most important and powerful teaching moments.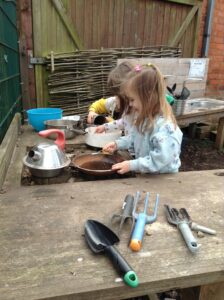 We are proud of the location and environment we have. The children can choose to play inside or outside (Free flow), with the classroom doors remaining open throughout the day.  From day one, the children are supported to explore the environment to see what is available and to tidy the area when they have finished.  Our routine has been designed to ensure the children gain the correct amount of 'free flow' whilst gaining a set amount of time for adult-led activities.
We have built our Literacy and Communication and Language curriculum around the principles of Talk 4 Writing. This is an approach that encourages oral story-telling, creation and innovation from the very first day. We use props, real-life objects and pictures to create story maps, new stories and narratives within our play.
Burley Gate Nursery is set in an idyllic countryside setting and offers term time childcare for 2-4 year olds.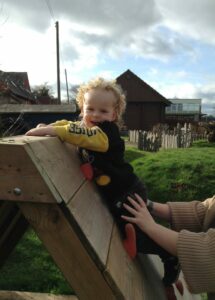 We offer funded places for eligible 2,3 and 4 year olds and for those not eligible we charge £5 per hour.
Our opening hours are
Mon: 7.45am – 3.30pm
Tues: 7.45am – 3.30pm
Weds: 7.45am – 3.30pm
Thurs: 7.45am – 4.30pm
Fri: 7.45am – 4.30pm
We offer a vast range of opportunities for our Early Years children including Talk 4 Writing sessions, Forest School sessions, Early Reading sessions and targeted speech and language sessions.
We would be delighted to invite you and your little ones for a tour of the nursery and school and for free taster sessions.
Please contact the school office on 01432 820367 for more information.