It's all about getting outdoors with your family and making those moo-velous memories that will last a lifetime! Farmer Palmer's is specifically designed for children aged 0-8 years, so you can rest assured that our excellent team understand the needs of parents and grandparents with tiny tots, toddlers and young children. We're here to give 'ewe' an awesome day out!
For first time parents; we recognise it can be daunting taking your new baby out for the day; Farmer Palmer's offers you a warm and welcoming environment and we're proud of our NCT Breast Feeding Welcome certification. There are lots of other new mums and dads at the park so you'll be amongst like minded people who are all experiencing parenthood! For those with 5-8 years olds; we have lots of play areas to facilitate burning off that excess energy! The Go-Kart track and Splash Zone are a popular choice for the older children and the Maize Maze will be open from August to October.
When it's time to re-fuel, you'll find a wide variety of delicious, fresh, home cooked food served by our friendly Hen House team. We pride ourselves on exceeding your expectations of a cafe – focused on what you need in a children's dining area!
But what if the Great British weather is inclement? Don't worry! The Animal Barn is undercover so you can still snuggle guinea pigs, groom ponies and hand feed the lambs and goat kids their lunch! The Little Farmer's Fun Barn gives children a world of opportunity to let their imaginations run free and the large soft play zone will keep your explorers entertained for hours, we even have an INDOOR bouncy castle!
Other highlights include; learning about milk production in our daily Cow Milking demonstration – a fun and educational experience! How about taking a ride on a tractor trailer and stopping off to meet and hand feed beautiful Red Deer! Or cheering on your favourite piggy in our daily Pig Race! The louder you cheer, the faster they run! Please note
if it's raining (the racing pigs don't like to run in the rain!) you can come and meet our resident pigs in the animal barn, learn about them and come and give them a stroke.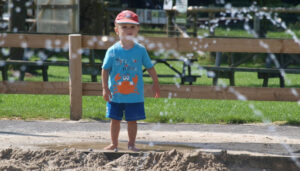 Birthdays
Is your child celebrating their birthday soon? Can't think of where to hold the party? Don't fancy having to entertain the little party poppers and clean up afterwards? You know where this is going . . . let us take care of it for you! We have a baaa-rilliant party team who will make your little ones day super special! From just £14.95 per child you get 2 adults in FREE per child attending the party, FREE tractor-trailer ride (adults and party children), own party room for eating, hot and cold food choices, Mr Whippy ice-cream, moo-velous Cow cake with candles and party bags (which currently include a voucher, party cake and a TY toy!). We're including over £60 each worth of Farmer Palmer's experience per child, into your day! Now that's what we call a baaaa-gain! Please book your party via Farmer Palmer's website where you can check availability and find full details.
How can my children still enjoy Farmer Palmers if they are starting school? For some of you this may be the last summer with your little one before they grow up to their next milestone and head off to school for the first time. The time you get to play together after school, in the holidays and at the weekend then becomes even more precious! Let us help you get organised for the Autumn; a Farmer Palmer's Annual Pass gives you freedom to visit us whenever we are open, so you can treat your little one to an after-school visit to their favourite farm park, or take advantage of those half days, 52 weekends and 12 weeks of school holiday fun!
We've tried to think of everything; Annual Passes now come in a cute presentation pack so they make a great gift idea too! PLUS, as a member of our family there are other benefits too, including special offers on Birthday Party bookings! It's easy-peasy to join the fun, simply head over to Farmer Palmer's website and visit the Times and Prices page where you'll find a link to purchase your passes (there's even a discount for buying online too!).