3Degreez Allstarz CIC run classes in all-star cheerleading, dance, tumble & fitness.  We are a not-for-profit community interest company and run a variety of classes at our 2 Hereford locations: Hinton Community Centre & Holmer Church Hall.
We have recreational and competitive class options available and pride ourselves in knowing there is a class somewhere on our timetable for everyone. Our recreational classes follow a certificate system to help award skills progression and our competition teams have the opportunity to attend multiple events throughout the country.
Free tasters are available for all of our sessions.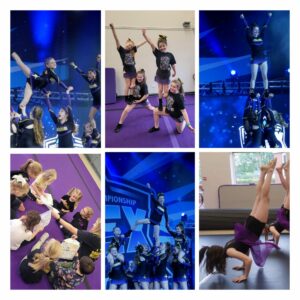 Classes for everyone
Below is a snapshot of some of the classes we offer at 3Degreez:
Baby Discovererz / Dudez & Daisiez
Parent & Child classes. Designed to help your little one build and develop their fine/gross motor skills as well as socialise with other children/adults. A fun-filled class full of music, dancing and a chance to explore our equipment. Baby Discovererz will help bring your little one's senses alive in a relaxed atmosphere.
Allstar Cheerleading
Includes many elements from stunts to gymnastic floor tumbles, jumps to performance/dance. Our sport is a fantastic discipline that helps build confidence and self-esteem in individuals as well as building leadership and teamwork skills.
3Degreez Dance
Teaches a blend of Contemporary, Modern and Lyrical Dance for Primary and Secondary pupils. We use contemporary technique skills to create explosive, and exciting routines. Capturing the essence of performance skills, through use of lifts, tricks, and emotive group choreography.
3Degreez Defuze
Defuze is our SEND class catering for children in primary/secondary school. This class is suitable for children on a EHCP (Educational health care plan) or other specialist needs that may not yet have been diagnosed.  We support everyone's individual needs and will discuss these with your during registration.
Schools programme
As part of our outreach projects we love visiting and supporting all schools throughout Herefordshire. If your school is interested in having their own cheer/dance programme or would simply like a one off or block booking please contact us to find out how we can help you.
Adult Cheer/Fitness
We also offer recreational and competitive classes for adults. Whether you are looking for a new sport, a new way to get fit or just want to find a new social network. Our adult classes can be taken at your own pace and will help you fall in love with our wonderful sport!
School holiday activity
During each school holiday we aim to run a variety of workshops and/or full day camps. Please follow us on Facebook/Instagram to stay up to date with these.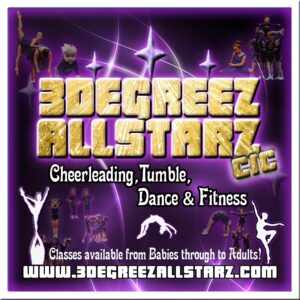 Free tasters are available for all of our sessions. Please do not hesitate to contact us should you wish to discuss anything further. We cannot wait to meet you.
Email: hereford3degreez@hotmail.com
Call: 07792 254217