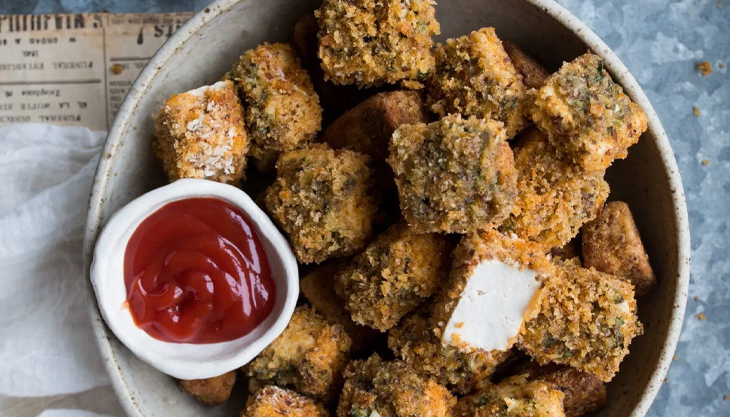 Makes 4 Portions
Not Suitable for freezing
Preparation 20 minutes
30 minutes cooking time
220 C°, 450 F°, Gas Mark 8
Ingredients
Garlic butter
1 block tofu- well pressed
50g vegan butter – we used Pure
5 cloves garlic
1 tbsp (of 15g) nutritional yeast
1 tbsp fresh parsley, or 1/2 tsp dried parsley
Salt
Pepper
Coating
2 slices wholemeal bread
1 tsp cornflower
1 cup or 240ml plant-based milk, unsweetened
2 tsp ground flaxseeds
Pinch of sea salt
Freshly ground black pepper
Method
Preheat the oven to 220 degrees Celsius.
If your bread is a few days old, whizz in the food processor until you have fine breadcrumbs. If not, lightly toast the slices before whizzing. Put the breadcrumbs in a flat-bottomed dish, add the cornflour, salt and pepper and mix together well.
Stir together the plant-based milk and the flaxseeds in a medium-sized bowl and leave to thicken. After a few minutes you'll have an egg-like consistency which will make the breadcrumb mix stick to the tofu.
Make the garlic butter by finely chopping or mincing the garlic and add it to the butter. Finely chop the parsley if fresh and add to the butter along with the nutritional yeast. Season with salt and pepper and stir it all together so it's well mixed. This is, incidentally, how we make garlic bread and the mixture also freezes well at this point so don't worry too much if you €˜accidentally' make a double portion.
Take your well pressed tofu and cut it into ten slices once lengthwise and then width-wise so you have 4 flat slabs of tofu. Score a cross hatch pattern into the top of each slab of tofu.
Divide the garlic butter equally into 4 and spread it thickly on top of each slab of tofu, smoothing it over evenly. Dip the first steak into the €˜egg' mixture so it is well coated and then roll it carefully in the breadcrumbs. Ensure the tofu is covered evenly and repeat with the remaining 3 steaks. Place the Kiev's on a greased baking tray bake in the pre-heated oven for 30 minutes at 220 degrees Celsius and cook until golden brown.
Squeeze lemon juice over each tofu fillet before serving or serve with a lemon wedge on the side.
Enjoy!
We've recreated the timeless classic dish of Chicken Kiev here with tofu doing a more than passable impression of a chicken breast. As we know, when tofu is well pressed it absorbs the flavours during cooking and this is the key to this dish.
The creamy garlic butter is absorbed all the way through the tofu during cooking and infuses it with a scrumptious garlicky flavour and the bread crumb topping adds a tasty crunch. Serve your Tofu Kiev with new potatoes and lots of shiny greens such as wilted spinach, broccoli and green beans. Or all 3.