Cakes Biscuits & Sweet Treats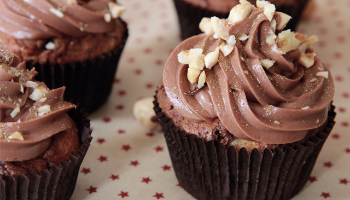 Makes 12 Portions
Not Suitable for freezing
Preparation 30 minutes
20 minutes cooking time
180 C°, 350 F°, Gas Mark 4
Ingredients
3 eggs
100ml sunflower oil
50g demerara sugar
200g Nutella
225g plain flour
2tsp baking powder
For the Frosting
250g Nutella
200g soft cheese
30g toasted chopped hazelnuts
Method
Preheat the oven to 180C/160C Fan/Gas 4. Use a 12 cake muffin tin with paper cases.
Add the eggs, oil, sugar and Nutella into a clean bowl and whisk until smooth.
Sift in the flour and baking powder and fold into the mixture until all is combined well.
Divide the cake mixture into the paper cases and bake for 20 mins until well risen and springy to the touch.
Remove from the oven and place on a rack to cool.
To make the frosting, add the Nutella and soft cheese to a bowl and beat together.
Spoon into a piping bag and pipe the mixture onto each cake when they have cooled.
Sprinkle on the chopped hazelnuts.