Mackerel with Spinach (Macher Chorchori)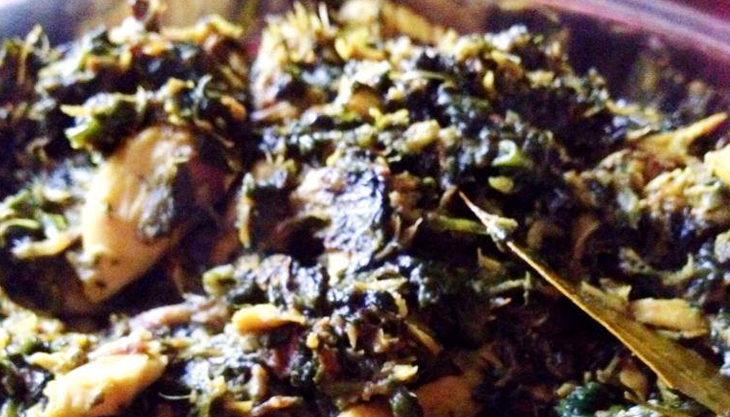 Makes 2 Portions
Suitable for freezing
Preparation 10 minutes
30 minutes cooking time
140 C°, 275 F°, Gas Mark 1
Ingredients
3 tbsp oil
1 tin mackerel fillets in brine, drained
1 small onion, sliced
½ tbsp garlic paste, or 1 fresh clove garlic, minced
1 tbsp ginger paste or 1€ piece fresh ginger, grated
1 bay leaf
6-7 blocks of frozen spinach
½ tsp turmeric powder
½ tsp coriander powder
½ tsp chilli powder
½ tsp ground cumin
1 tsp salt or to taste
1 green chilli, chopped (optional)
handful of fried fenugreek leaves (optional)
Method
Heat the oil and add the bay leaf.
Add the onions and cook on medium heat until transparent.
Add the garlic and ginger and stir for 1-2 mins.
Add the dry spices and sauté for 2 mins with 2 tbsp water.
Add the mackerel and stir well to cover with spices, using a wooden spoon to break up the fillets.
Add the spinach and green chilli (if using), stir a little and cover; leave to cook on low heat for 10-15 minutes.
Stir the spinach well to blend in with the fish mixture. Cover and cook again, if necessary, until the spinach is cooked through.
Remove the lid and turn up heat to evaporate any excess liquid.
Continue stirring and remove from heat when the dish is completely dry and begins to come away from the sides of the pan as you stir.
Stir in the dried fenugreek leaves, if using, and remove from heat.
Shermin A Ali
Founder & owner of Najma's, Shermin A Ali launched her catering business in the summer of 2012. Catering mainly in artisan markets and making select home deliveries, after just a year of trading Najma's was 'Highly Commended' by the Time & Leisure Food & Drink Awards in 2013. That same year Shermin also opened her home kitchen to teach Indian Cookery. Classes were extremely well received and Shermin has since continued running her small independent Cookery School from her home in South West London and has also taken her classes and workshops to local school and libraries.
Najma's bespoke catering services forms the very core of the business and as a fully qualified Yoga Teacher, Shermin's most recent venture has been the launch of her Yoga Party where she brings together her Hatha Yoga teaching with the best of Najma's buffet catering