Cakes Biscuits & Sweet Treats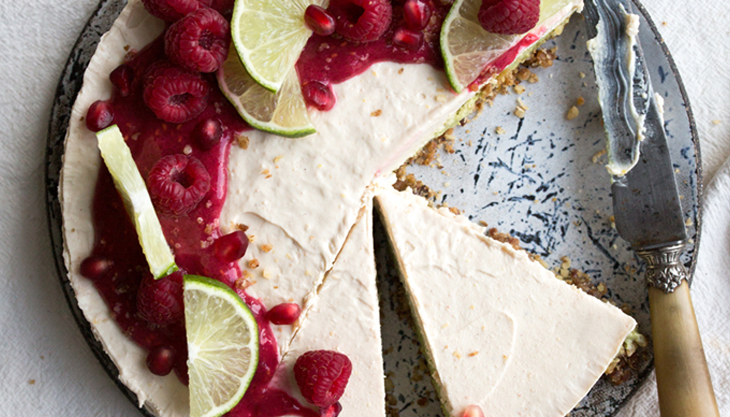 Makes 10 Portions
Not Suitable for freezing
Preparation 75 minutes
15 minutes cooking time
140 C°, 275 F°, Gas Mark 1
Ingredients
Base
1 cup, packed (180g) medjool dates, pitted
1 cup walnuts
½ cup porridge oats
2 tbsps lemon zest
1 pinch cinnamon
1 pinch sea salt
2 tbsps flaxseeds
Filling – lemon layer
300g silken tofu, pressed
The zest and juice of 3 lemons
1 tbsp coconut oil
1 tbsp cornflour
2 tbsps maple syrup
1 tbsp cashew butter
1 pinch sea salt
Filling – lime layer
300g silken tofu, pressed
The zest and juice of 3 limes
1 tbsp coconut oil
1 tbsp cornflour
2 tbsps maple syrup
1 tbsp cashew butter
2 tsps matcha powder
1 pinch sea salt
Topping
1 cup (150g) raspberries
2 tsps ground chia seeds
2 tbsps maple syrup
¼ cup water
Method
Base
Whizz the base ingredients together
press into a 10€ flan case and put into the fridge or freezer to set. If you need it to set in a hurry, the freezer is best. Or you can make mini, individual cheesecakes in 3€ tins if you have them. It's an idea to whizz the walnuts first, before adding the rest of the ingredients, to ensure they are finely ground. Don't overdo it or you'll have a paste.
Filling
Add the cornflour to the lemon juice and mix well.
Melt the coconut oil in a small saucepan and add the lemon and flour mix.
Heat slowly, stirring all the time, you need to bring it gently to the boil in order to cook the flour.
When the sauce has started to thicken, about 5 minutes, take off the heat and leave to cool for a few minutes before you add it to your blender with the rest of the filling ingredients.
Whizz together and pour over prepared cake base.
If you are making a double-layer, 2-green cheesecake which is very tangy and looks pretty impressive, make the lime layer in the same way and pour it over the base first, place it in the fridge for 20 minutes to set and then pour over the lemon layer.
Chill for at least ½ hour to set before serving.
Topping
Whizz the topping ingredients together and set aside for the chia to absorb and thicken for at least 10 minutes before using.
Either swirl the fruity topping into the cheesecake before it sets if you're feeling artistic or allow filling to set and smooth over the top.
Top with half-moon slices of lemons and limes, a few reserved raspberries and an optional pomegranate seed for a bit of panache.
At Tofuture we are transforming Tofu from the tasteless, spongy, last choice vegetarian option into a delicious, healthy and ethical addition to your diet. The recipes, new ideas, and our brand new to the market Tofu Press will add a riot of alternative options to your menu the only problem will be choosing which to try first.