Cakes Biscuits & Sweet Treats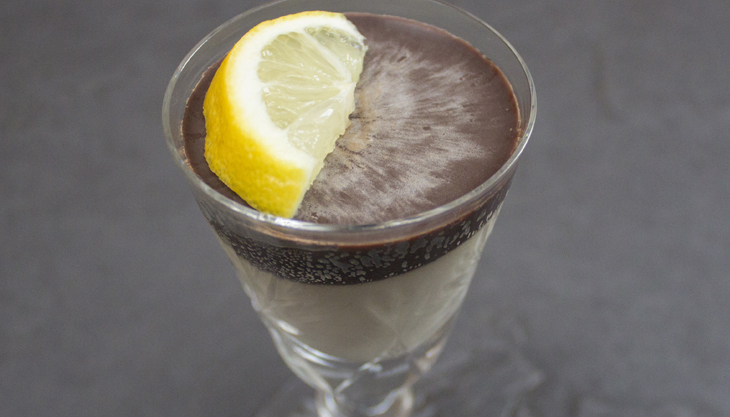 Makes 12 Portions
Not Suitable for freezing
Preparation 35 minutes
5 minutes cooking time
140 C°, 275 F°, Gas Mark 1
Ingredients
1 tin of coconut cream
2 tbs lemon juice
zest of one lemon
2 tbs coconut sugar
For Chocolate Part
125g raw cacao butter
40g coconut nectar
20g ground cashew nuts
15g coconut oil (butter)
45g raw cacao powder
4g vanilla powde
Method
Empty coconut cream into a bowl and whisk by hand till all smooth, add in the coconut sugar, lemon zest and lemon juice and whisk till all mixed in.
Put into a small glass and place in the fridge to set for 10 mins
On a double boiler – a glass bowl that is sat on top of some water (but not touching the water), gently melt the cacao butter, never letting the water come to the boil.
Once the butter is melted, add in the coconut butter and stir until it melts.  Take the bowl off of the stove and mix in the rest of the chocolate ingredients.
Pour on top of the mousse. Place back in the fridge for another 20 mins then serve chilled.
Will keep for several days in the fridge
Juliette Bryant
Juliette Bryant is a nutritionalist, superfood chef and presenter who travels the world running workshops and talks and giving nutritional consultations to individuals and businesses.
Her motto is, 'let delicious food be your medicine.'  Inspired by natural healing and nutritional science Juliette has 20 years experience helping people to better health and happiness.
Juliette presents life-changing information in a clear, dynamic and easy to follow way to schools, colleges, businesses, festivals, conferences and groups around the world.
She is the author of Divine Detox – A 7 Day Guide To Better Health & Vitality, and Divine Desserts – How To Have Your Cake And Eat It.
Juliette balances her busy international work schedule with family life in rural North Essex.