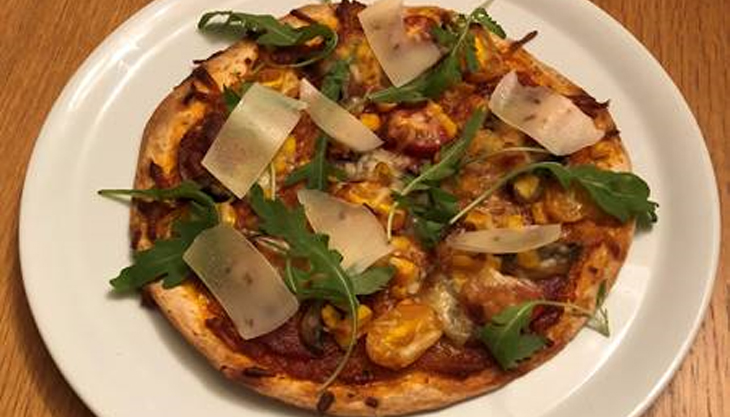 Makes 4 Portions
Not Suitable for freezing
Preparation 5 minutes
15 minutes cooking time
200 C°, 400 F°, Gas Mark 6
Ingredients
 Flour tortillas (Large soft, whole wheat or flavoured if you're feeling adventurous)
Tomato Passata/tinned tomatoes
Grated cheese – cheddar or mozzarella
Pepperoni/ham/cooked chicken
Peppers/sweet corn/onions/pineapple
Method
Preheat the oven to 180 degrees fan, 200 conventional, gas mark 6.
Lay out a tortillas on a baking tray and spoon over a thin layer of the tomato sauce, leaving approx. 1cm gap around the edge.
Add the toppings and cheese – try not to overload the base or it will go soggy.
Place the baking tray into the middle of the oven for 10 – 15 mins until the cheese is bubbling and the base is crispy.
Remove from the oven, cut in to triangles and serve.
Pizzas are so versatile and can be made to individual tastes. My Flatbread pizzas use flour tortillas as a base and are so easy to make, even in a hurry. Kids will love adding their own favourite toppings and will be eating the pizza within 15 mins.
Large tortillas are approx. £1.60 for 8 so make a cheap meal or snack.
They are also great cold and perfect for lunchboxes