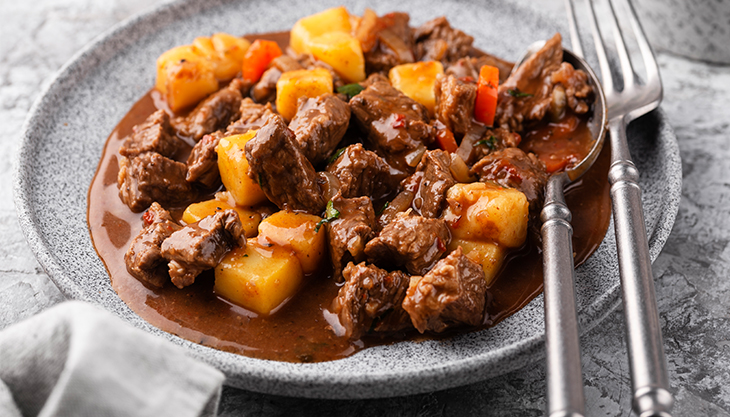 A classic Beef Stew warms us on those Winter days and provides those vital 5 a day ingredients too, it's a win- win, home cooked, tasty and nutritious!
Ingredients
900 grams of stewing beef, cut into 1-inch cubes
2 tablespoons vegetable oil
1 large onion, chopped
2 cloves garlic, minced
1 litre of Beef stock
¼ litre red wine (optional)
4 carrots, peeled and sliced into rounds
4 potatoes, peeled and cut into chunks
2 celery stalks, chopped
2 bay leaves
1 teaspoon dried thyme
1 teaspoon dried rosemary
Salt and pepper to taste
2 tablespoons all-purpose flour (optional, for thickening)
Chopped fresh parsley for garnish (optional)
Method
1. Heat the vegetable oil in a large pot over medium-high heat.
2. Add the cubed beef and brown it on all sides. You may need to do this in batches to avoid overcrowding the pot. Once browned, remove the beef from the pot and set it aside.
3. In the same pot, add the chopped onions and garlic. Sauté them until the onions become translucent and fragrant, about 3-5 minutes.
4. If you're using red wine, pour it into the pot and deglaze it, scraping up any browned bits from the bottom. Allow it to simmer for a few minutes to reduce slightly.
5. Return the browned beef to the pot and add the beef stock. Stir to combine.
6. Add the carrots, potatoes, celery, bay leaves, dried thyme, and dried rosemary to the pot. Season with salt and pepper to taste.
7. Bring the mixture to a boil, then reduce the heat to low. Cover the pot and simmer for about 2-3 hours, or until the beef is tender and the vegetables are cooked through. You can also cook it in a slow cooker on low for 6-8 hours.
8. If you want a thicker stew, mix 2 tablespoons of all-purpose flour with a little water to make a paste and stir it into the stew. Cook for an additional 10-15 minutes to thicken.
9. Taste and adjust the seasoning as needed. Remove the bay leaves before serving.
Serve your delicious beef stew hot, garnished with chopped fresh parsley if desired. It's perfect with some crusty bread or over cooked rice or mashed potatoes.
Enjoy your homemade beef stew! For more great recipes, CLICK HERE!