Cheese & Ham Puff Pastry Swirls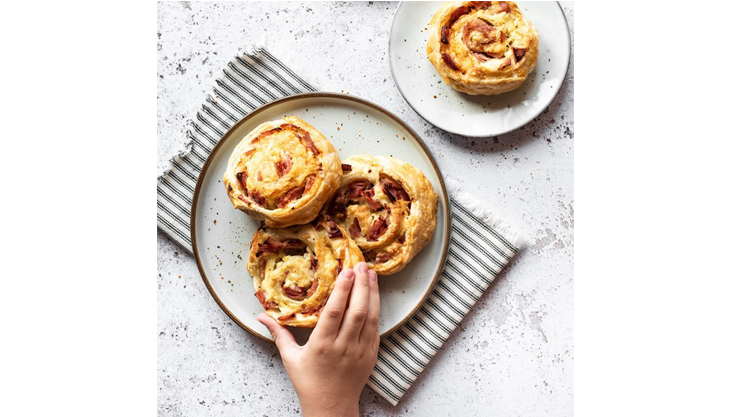 Makes 8 Portions
Suitable for freezing
Preparation 10 Minutes
20 minutes cooking time

210

 C°, 

425

F°, Gas Mark 7
These ham and cheese puff pastry swirls are such a good idea as a party snack. They're quick and easy to make if you're in a hurry and a real crowd pleaser.
If you have some spare time and would like to be a little more adventurous with your baking you can bake your own Puff Pastry with our recipe. It will add on around an hour onto your baking session so make sure you set an afternoon aside! We've also included a video tutorial below for Puff Pastry.
This recipe is courtesy of BakingMad.com https://www.bakingmad.com
Ingredients
1 Ready Rolled Puff Pastry
250g Cooked Ham
250g Cheese (We used Strong Cheddar
Utensils
Cheese Grater
Baking Tray
Rolling Pin
Sharp Knife
Method
Preheat your oven to 220°C (200°C for fan assisted ovens)/Gas Mark 7.
Grate 250g of cheddar (We used a strong cheddar because we love the flavour).
Spread the ham and cheese across the sheet of puff pastry making sure you get an even coverage.
It's time to roll your pastry. Start with one edge and tuck it under as you begin to roll. You'll end up with a large thing which looks like a swiss-roll. Using a sharp knife, slice into 2cm pieces.
Place your slices onto a non stick baking tray and wash the top with egg. Place in the oven and bake for 20 minutes or until golden on the top.